Home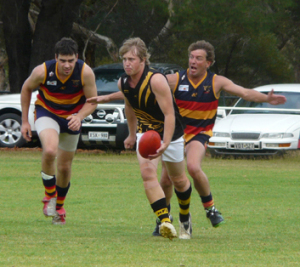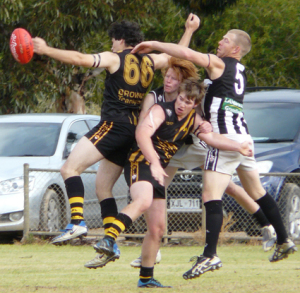 Welcome to the Mallee Football League

The Mallee Football League was formed in 1994 when the Lameroo & Districts Football League and the Murraylands Football League amalgamated.
There were 7 clubs involved with Karoonda Districts, Lameroo, Murrayville, Ngallo, Parilla / Geranium, Peake & Districts and Pinnaroo.
Parilla / Geranium went into recess in 1998 and Ngallo followed in 2001. Border Downs Tintinara joined the Mallee League in 2002 and there have been 6 clubs since that time.
Ken Box was elected Inaugural President with Trevor Coleman as Secretary.



Mallee League Football Preview 23-5-2015
BDT came close to upsetting the undefeated Lameroo last week with both sides missing key players. Karoonda held on for a hard fought win over Murrayville while Peake proved too strong for Pinnaroo.
Murrayville v Lameroo
Murrayville have lost the past 2 matches by a combined 16 points and may rue the missed opportunities later in the season. Clayton Sporn is playing well at centre half back winning possession as well as holding his opponents. Sam Magor is a ball winner in the midfield along with Trent Anderson and Jack Hodgson. Rian Crane and Kevin Wyatt will always give a strong account of themselves and have an impact on the game. Chris Presser has a presence at half forward with Jake Venning providing a target at full forward.
Ben Greiger has missed the last 2 matches and his influence has been felt although Andrew Hunt has stepped up and is playing well in ruck. Shaun Walker is unlikely to play this week but Brodie Chinner & Vaughan Noonan should return. Fraser Sampson has continued his development and is now one of the most consistent players in the MFL while Josh Barrett is making the best player list on a regular basis.
Lameroo are playing consistently well and will account for Murrayville this week.
BDT v Peake (Coonalpyn)
BDT did make a statement last week to show they are still a force in Mallee football. Chris Gregory made his presence felt with 8 goals playing up forward again while Lachlan Richardson continues to maintain his mantle as one of the best midfielders in the MFL. Patrick Barrett is a danger in the midfield and when resting forward along with Aaron Richards, Chad Kennett and Tasman Hawthorne all rotating through the midfield and up forward. Josh Keller is playing a role across half back and continues to one of the MFL's best players.
Peake are looking to consolidate the double chance with a win this week. Sam Braidwood has added a big target up forward and forms a strong combination with Trevor Rigney who is in great form early in the season. Gareth Diprose, Kym Markwick and Jeff Lines hold the defence together and Rick Piggott provides rebound from half back. Gabe Phillips, Darren Hare and Jarryd Hill feed off ruck man Patrick Gabb in the midfield while Sam Janetzki can play midfield and forward and has also played a tagging role in 2015.
Peake look a little more settled and can defeat BDT.
Pinnaroo v Karoonda
Pinnaroo need to win this match to push into the top four. Micah Van Loon has had a big impact so far along while Shannon Jenner and Tai Wheadon missed last week and will make a difference. Alex Keough continued on with his good form and is one of the highest possession winners in the League. Ben Hannam, Lachlan Bailey and Lachlan Pye are good young players but Jarred Kerber will miss a few weeks with an arm injury. Nick Hyde played his best game since returning this year and will be keen to play a role in a Pinnaroo revival.
Chad Nickolls duel with Josh Rudiger will be absorbing as they are both big men who are very good tap ruck men.
Karoonda held on for a win last week but could be without Luke Hocking & Stephen Krezos against Pinnaroo. Zakk Bullard is carrying the load in the midfield with support from Joel Loechel. Ben Quinn returned last week and had an immediate impact while Ryan Paech and Daniel Thiele work well in attack. Josh Rudiger is playing well in ruck with Nick Zander to return and provide a big body in the midfield. Chris Rudiger provides run from half back with Josh Rosenzweig, Eli Koch & Andrew Smithson forming a solid defence. Jarred Woodward is playing consistently well.
Tough match to pick but Pinnaroo at home always prove hard for Karoonda and they may just pinch a win.