Bowling Calendar
Taimanglo Takes April Senior Bowling Title
Monday 01st, January 1900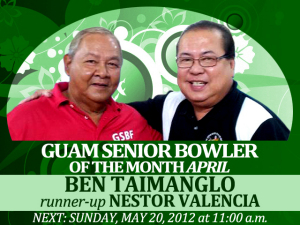 Not being able to strike consistently did not deter Ben Taimanglo from outlasting fifteen fellow seniors to finally win the April Senior Bowler of the Month. Instead steady sparing and timely strikes when he needed them most did the trick.
The fresh medium oil pattern kept the scores down during the 6 game qualifier with Bal Perez taking the top seed going into the top ten roll-offs. 8th seed Terry Roberto beat out 9th seed Jhun Viray and 10th seed Edgar Caper in the first shootout bracket. 7th seed former champion Nestor Valencia took a narrow five pin win over 5th seed Rudy Palaganas and 6th seed Pat Roberto in the second bracket.
In round two , 3rd seed Mike Woodrome stopped (Terry) Roberto 196-171 with handicap. Valencia continued his run with a 219-209 upset win over 4th seed Karl Olson.
Valencia continued his run with an upset semi-finals win over top seed Perez 170-146 with handicap. Meantime 2nd seed Taimanglo got past Woodrome 224-185 with handicap setting up a finals match with Valencia.
In the finals match, Taimanglo opened with marks in the first four frames while Valencia opened in the fourth frame to give Taimanglo the lead. Still the former monthly champion came back with strikes in the next two frames to get a slight lead. But a split in the eighth frame and steady sparing by Taimanglo paved the way to his eventual victory.
The next monthly tournament will be held 11AM Sunday, May 20th at Central Lanes. This event is open to all bowlers aged 50 or will be 50 by December 31st of this year.
Email Contact:
Sunday, April 29, 2012 - CENTRAL LANES BOWLING CENTER, Tamuning, Guam