Home
Grand Final Round
Attached is the fixture for this week's Grand final round.

Please note the following for Grand Finals
The fixture has been structured on a 60 minute schedule beginning at 12.30 pm and the last game at 6.30pm.
This allows time for:
close games to take the opportunity of stopping the clock on every whistle in the last 2 minutes of the game.

Games that are drawn to play on to "sudden death with a golden goal". This means that at the end of a drawn game both teams are given 1 minute break, they change ends, the game continues with a jump ball and the first team to score a goal is the winner.

Spectators are reminded that they need to be seated opposite the score bench

on the game th

ey are watching.

Score bench is only to have 2 people seated for scoring during all games today – even those that are not specifically "Grand Finals"

Photos may be taken this week but everyone needs to be aware of not interfering with the flow of the game. Photos cannot be taken from the ends of the courts. No tripods are permitted for safety reasons

Trophies will be presented at the end of games. The 60 minute time schedule will make this less hectic but please be aware that another team will be waiting to get on the court for their warm up. Trophies are only provided for players who are named on the score sheets. No other names are to be entered.
Competition Administrator
Mobile: 0402 047 975
email: comp-admin@portphillipbasketball.com.au
Port Start Rep Tryouts - Boys and Girls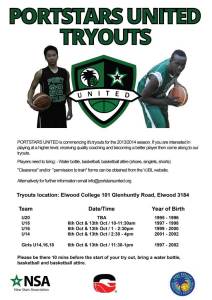 PORTSTARS UNITED is commencing tryouts for 2013/2014 season
Tryouts are on 6th October and 13th October at Elwood College 101 Glenhuntly Rd Elwood
(download flyer below for full details)
PortStars United Girls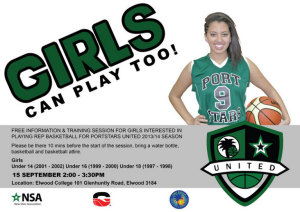 Free information and Training session for girls interested in playing Rep Basketball for PORTSTARS UNITED 2013/2014 season
Under 14 (born 2001-2002)
Under 16 (born 1999-2000)
Under 18 (born 1997-1998)
15 SEPTEMBER 2:00-3:30 PM
Elwood College 101 Glenhuntly Rd, Elwood 3184
(Download Brochure below)
Mercy Rule
Attached is some important information regarding the "Mercy Rule". Please read this before this week's games.
Round 10 is the last round of this season. After Round 10 some teams may be regraded for the Championship season that start on July 20th.
Letter from PPBA President
Attached is an update from Maria Attard-Dickson PPBA President.