Home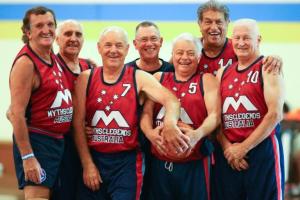 Are you looking for Photos from the Basketball Event?
Visit www.actioninfocus.com.au

About the Pan Pacific Masters Games

The 8th Pan Pacific Masters Games will be held from 3 to 11 November 2012 on the magnificent Gold Coast.
An anticipated 11,000 participants from all over the world will compete in the multi-sport event which has stamped itself on the calendar at the beginning of November every two years.

In 2012, more than 30 sports will be on the program, from team sports including softball, touch football, soccer, basketball and baseball to individual sports ranging from swimming, athletics, tennis and archery.

No qualifying standards or times are required to enter the Pan Pacific Masters Games. The only criteria is that participants meet the minimum age requirement for their respective sport, which for the majority is 30 years of age.

Participants compete in their age group ensuring that the sport is played fairly, competitively and in tremendous spirit.

The slogan of the Pan Pacific Masters Games is 'Play it, Live it, Love it!' which encapsulates its competitive, participatory and social environment.

The Gold Coast Convention & Exhibition Centre will be the official Games Village for the 2012 Pan Pacific Masters Games. It will feature live nightly entertainment, fully catered hospitality and a venue for the Games sportspeople to socialise, meet up and enjoy the camaraderie the event is renowned for.
OPENING CEREMONY: Saturday 3 November 2012
FAREWELL PARTY: Saturday 10 November 2012

The Gold Coast Convention and Exhibition Centre is an award winning multi-purpose venue that is close to accommodation, shopping, restaurants, nightlife, the beach and central to the Pan Pacific Masters Games sport's venues.

Pan Pacific Masters Games services including registration, timetables, photography, event merchandise and other sport's information are all located within the Games Village.
History

The very first Masters Games event worldwide was the 1985 World Masters Games in Canada, which attracted 8,305 competitors from 61 countries.

With the rise in popularity of Masters sport, national events began to surface in Australia and New Zealand. The first Australian Masters Games was held in Tasmania in 1987 and New Zealand Masters
Games in Wanganui in 1989. Brisbane hosted the 1994 World Masters Games which attracted 24,000 competitors from 71 countries.

Following the success of the Worlds in Brisbane, the inaugural Queensland Masters Games were held in 1995 in Townsville, before moving to the Gold Coast the following year. These Games evolved into the Asia Pacific Masters Games and then Pan Pacific Masters Games from 2002, with increased interest from Asia, Japan, America, Oceania and New Zealand.

The Pan Pacific Masters Games continue to be held biennially in early November. In the previous edition in 2010, there were over 10,000 participants from 16 countries and every Australian state and territory.

The 2012 Pan Pacific Masters Games is a major event managed and presented by Events Queensland Gold Coast – a wholly owned subsidiary of Events Queensland.