Home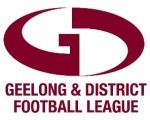 WELCOME TO THE GDFL
The GDFL Interleague team to take on the North Central league at Keith Barclay Oval on Saturday has been announced at a team dinner tonight at North Geelong.
Addressed by President Neville Whitley and Coach Paul Price, both men outlined the honour or representing the league and what representative football means to the GDFL.
Coach Price thanked all the players for the committment they have shown to date and is very confident that it is a quality side taking the ground.
The side is
Backs. B.McNamara (BPH) , D. Mathiesen( NG), T. Parsons (A)
Half Backs. C. Addie (BPH), S. Richert (A),T. Fursland (BPH)
Centre. M. Tyquin (B), J. Huhn (C), B. Mackenzie (W)
Half Fwd. B. Monterbruno (WC), J. Bourke (C), J. Mawson (EG)
Forward. P. Breguet (NG), L. Forbes (T), J. Macleod (T)
Rucks. J. Symes (BPH), D. Fitzsimmons (NG), D. Witney (BPH)
Int. from S. Lewis (BPH ), A. Leak (W), B. Grgic (BPH), R. Sims (GW), B. Wall (GW), Wood (BPH)

The Under 18 interleague match will be the curtain rasier at 12 noon under the instruction of Mark McDowell. The side is

B. Gerrard (C), Heaver (NG), Kubcke (I)
HB Connor-Kent (C), Warwick (EG), Stanley (EG)
C. Ellmer (NG), Walson (WC), Bennett (C)
HF. Warwick (EG), Meehan (I), Stokes (W)
F. Price (W), Grundell (I), O'Toole (C)
R. Maloney (BL), Harrison (BL), Riccardi (NG)
Int. Farrell (NG), Davis (NG), Tate (C), Moreland (BPH)
Coach. Mark McDowell