Home Page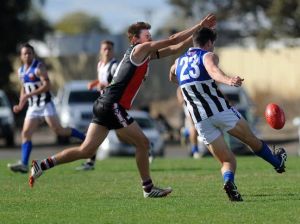 WDEA Employment
WIMMERA FOOTBALL LEAGUE
Horsham Saints beats Minyip-Murtoa in round one 2015
By

PEPPE CAVALIERI
April 20, 2015, 1 a.m.
Horsham Saints 11.4 (70) d Minyip-Murtoa 7.11 (53)
A SIX-GOALS-TO-ONE opening term was the catalyst for the Horsham Saints' opening round win against Minyip-Murtoa.
The Saints beat the Burras by 17 points at Coughlin Park in Horsham.
Saints Jacob O'Beirne and Gavin Kelm stood tall in front of goal, finishing with three majors apiece.
The side's productive opening term produced a 28-point quarter-time lead.
The Burras began the match well, controlling the midfield and kicking the opening goal.
But they could only watch as the Saints slammed home six on the trot.
A couple of beauties from the boundary summed up an impressive first-round performance from the Saints.
Coach Shayne Breuer said he was pleased with his side's ability to fight out the match.
''You take any win this time of the year,'' he said.
''We got off to a good start, but they fought back.
''It's always harder chasing than being in front, so it was good to get the scores on the board early.''
After quarter-time the Burras fought hard, but could not convert their chances in the 11.4 (70) to 7.11 (53) loss.
The loss was also soured by a serious knee injury to forward Brylie Cameron, who will have scans in Melbourne this week.
Coach Jaye Macumber said his side had a chance to be closer to the Saints, but a bit of rust cost them.
''We were definitely outplayed on the day,'' he said.
''We had six or seven minutes in the third quarter where we had a really good patch, but just couldn't get the score on the board.
''We learnt a lot from Saturday and we'll work on a few things this week, such as goal-kicking practice.''