Home Page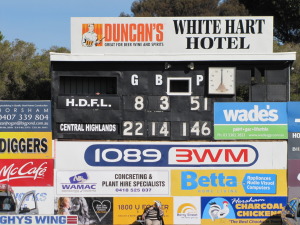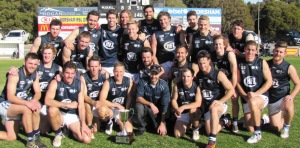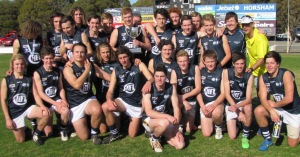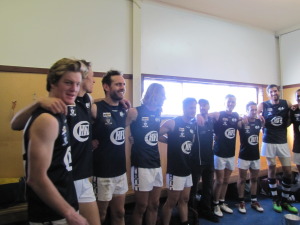 Bendigo Bank
Central Highlands
Football League
Proudly supported by naming rights sponsor Bendigo Bank
WorkSafe Country Championships success for RSM Bird Cameron CHFL
A dominant display from the first bounce provided the RSM Bird Cameron CHFL senior interleague side with an excellent victory over the Horsham &DFNL.
Under excellent management from coach Greg Middleton and his coaching panel the squad very quickly fitted into the roles which all had been given and they were never challenged for the lead and apart for 5 goals in ten minutes at the start of the third quarter the HDFNL never had any momentum.
The pressure applied was extreme across the whole ground and it is unlikley that any team has been able to effect as many smoothers as occurred in this match.
No player in the list of 23 was unable to have a contribution on the day and the leadership of captain Jarrod Morgan and vice captain Brenton Powell was superb.
A particular highlight was the involvement of Joel Maher, Nich Weightman and Justin Simpson in this team. Three players who participated regularly in the junior interleague program for the league and this year graduated to be part of probably the best senior interleague side which the CHFL has put out on the ground.
A great win from a group committed to furthering the reputation of the CHFL as a league which is continuing to improve every year.
CHFL: 6 5 12 9 18 11 22 14 146
HDFNL: 0 1 0 1 5 1 8 3 51
Best:
CHFL: Michael Searl, Brenton Powell, Shaun Finlayson, Daniel Wehrung, Tim Mullane, Justin Simpson
HDFNL: Deek Roberts, Daniel Baker, Sean Mantell, Robbie Miller, Scott Heath, Matt Magee
Goals:
CHFL: Shaun Finlayson 6, Daniel Wehrung 4, Luke Mirtschin 2, Mick Nolan 2, William Young 2, Mitchell Bruns 1, Paul McMahon 1, Jarrod Morgan 1, Tim Mullane 1, Tom Nijam 1, Brenton Powell 1
HDFNL: Sean Mantell 2, Deek Roberts 1, Scott Carey 1, Sam Winfield 1, Robbie Miller 1, David Lang 1, Jordan Huff 1
Cutting Edge Joinery Under 17.5 start the day on the right note
The CHFL Cutting Edge Joinery Under 17.5 interleague side got the day of to a great start at the WorkSafe Country Championships in Horsham with an impressive 67 point win against the Horsham &DFNL.
After two years of not having another league to compete against in the championships it was clear that the players under the direction of coach Mick Rix relished the chance to play as a unit representing the league.
There was clear committment to work for each other and by quarter time a 24 point lead set the tone for the rest of the match.
Well done to all who took part and represented the CHFL so excellently.
CHFL: 4 4 6 7 10 9 15 13 103
HDFNL: 1 0 3 2 4 4 5 6 36
Best
CHFL: Joel Chester, Lachie Johns, Jacob Brown, Brett Challis, Sam Jackson, Camron Lovig
HDFNL: Joe Harrison, Remy Cross, Peter Staude, Grant Cother, James Grigg, Riley Lenehan
Goals:
CHFL: Jye Rich 4, Cameron Ralph 3, Mark Smith 2, Cameron Ferrier 2, Jacob Brown 2,Joe Chester 1, Lakota Stranks 1.
HDFNL: Oliver Gabbe 1, Jasper Gunn 1, Joe Harrison 1, Campell Mason 1, Daniel Richardson 1
The Ballarat and District Junior Carnival will be held at Colac on June 21st.
Proudly supported by Stewart's Bakery
The first training session will be held at the Gordon FNC this Sunday 31st May 10.00am to 12.00pm.
Players to wear their club jumpers to all training sessions.
U14 training squad
Ballan- Ben Neumann,Corey Pascoe
Buninyong- Hunter Donald, Lachlan Atkinson, Max Wood, Kayden Brown
Beaufort - Cooper Smith
Bungaree- Bailey O'Keefe
Clunes- Darcy Coon
Creswick- Kaylab Eggers, Keenan Stringer
Carngham Linton- Dean O'Brien
Dunnstown - Chad Peterkin, Will Henderson
Gordon- Ben Frazer
Hepburn - Tyler Olver, Izaac Grant, Nathan Rodgers, Kyle Yanner
Learmonth - William Grills, Charlie Martin, Matthew Harbour, Riley Sheriff
Newlyn -Jedd Labbett
Smythsdale- Jack Tuohy
Skipton - Frazer Morcombe, Declan Phillips
Springbank- Alex East
U16 Training Squad
Ballan- Harry Webb, Kyle Swanson, Simon Dale, Campbell Sparrow
Buninyong - Bailey Squire, Jacob Coxall, Jonty Trotter
Beaufort- Joel Chester, Brad Uwland
Clunes- Lachlan Hull, Codie Clapton, Joel Nevill
Creswick- Callum Papps, Dave Lepoidevin, Tyson McCallum, Max McKee
Carngham Linton- Jackson Hammond
Dunnstown - Tim Collins,Scott Baldwin
Hepburn -Hayden Rodgers, Bryce Coffey, Phoenix Sewell, Jordan Grant
Learmonth -Cody Lowe
Newlyn- Campbell Spittle, Patrick Parr, Jacob Cassells, Reece Wynd
Rokewood Corindap -Locky Gillard
Smythsdale- Ash Gray, Dillan Scutcheon
Skipton- Tom Robertson
Springbank- Flynn Donegan
Preferred Uniform Supplier
The Bendigo Bank Central Highlands F.L. continues its partnership with Loco Sportswear as the preferred uniform supplier within the CHFL providing on and off field uniforms to clubs within the league.
Loco Sportswear is a licensed AFL Victoria Country supplier able to provide matchday jumpers and socks, netball skirts and off field apparel to suit all needs of clubs.
Attached below is a copy of their catalogue. All orders are recommended to be placed directly with Loco Sportswear. www.locosportswear.com.au

For further information contact Gary March on 0412 359936 or e-mail gary@hopgreen.com.au
Lucas House and Land Packages
Two Three Bedroom Houses
A current offering through the partnership between Bendigo Bank CHFL, Des Rix Homes, Integra, Peter McErvale Real Estate and Bendigo Bank.
House and Land packages are now available for purchase off the plan (save on stamp duty by purchasing off the plan now) Please contact Peter McErvale Real Estate for more information on 0408 508 674. Building work has now commenced with both slabs down.
In partnership with Des Rix Homes, Integra, Bendigo Bank and Peter McErvale the Bendigo Bank Central Highlands Football League has two exciting house and land packages available in Ballarat's newest suburb, Lucas.
The houses will be built on the corner of Wilmott St. and Holgate Rd, Lucas.
This is a great opportunity to be one of the first to enjoy the experience of living in a masterplanned community, with excellent passive and active recreation open spaces, shopping and related utilities.
These house and land packages are available now for purchase and all registrations of interest in these packages needs to be with Peter McErvale at Peter McErvale Real Estate.
Copies of the draft plans and location of the land is available at the bottom of this home page.
Advertising Opportunities with the Central Highlands Football League
The CHFL website received over 1.7 million hits last season, if you would like the opportunity to advertise on a monthly basis on the home page contact Diane Ryan on 0448524429 for details!
Be part of one of the largest community football leagues within country Victoria!