Lady Hawks Split Weekend On Road
Ringwood Hawks split their BigV Championship Women road double with a 58-64 loss to Eltham Wildcats and then backed up for a hard fought 61-59 win over Diamond Valley Eagles.
The Wildcats looked set to inflict a heavy loss on the Hawks, outscoring the visitors in each of the first three quarters to hold a 14 point (53-39) lead at the last break. However Ringwood fought back aided by some poor shooting by the hosts who appeared to take their foot of the gas. The margin narrowed to 3 in the dying minutes, but the Hawks could not capitalise to grab the win.
Ringwood imports led the scoring with Tori Hansen netting 13 points (5 assists, 8 rebounds) and Amanda Behnke adding 12 points(16 rebounds).
It was an arm wrestle on Sunday against the Eagles in a physical game that saw twenty lead changes. Diamond Valley's defence keyed on former League MVP Behnke. Constantly facing double and triple teaming defence, Behnke battled hard for her 14 points, again showing her class to drag down 17 rebounds.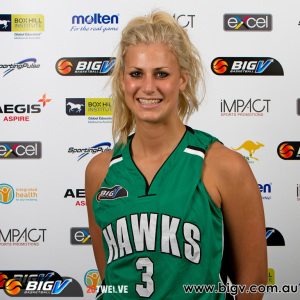 Jackie Vanderzaag worked well in tandem with Amanda Behnke
During her limited court time Jackie Vanderzaag worked well in tandem with Behnke to notch up 3 assists, 8 points and 7 rebounds. But again it was Hansen who presented the greatest threat to Diamond Valley hitting a team high 17 points (9 rebounds).
However the win did not come without some nervous moments on the Hawks bench as the luckless Eagles, having lost all of their games to date by 5 points or less, forced crucial turnovers and made some clutch baskets down the stretch to narrow the final magin to just 2.
Next week the Hawks host Sherbrooke who will be full of confidence, having just handed the ladder leading Melbourne Tigers their first loss of the season. Tip-off is 2:15pm on Sunday at the Maroondah Indoor Sports Centre.
Last Modified on 23/04/2012 21:52