home page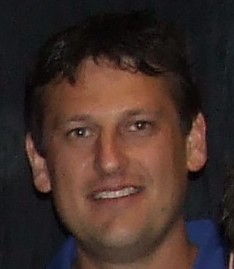 Round three produced a mixed bag of results
Thorpdale caused a huge upset when the defeated Trafalgar, both teams having a shocking run of injuries, Thorpdale jumped away early and were never headed. Who can remember Trafalgar losing two in a row? (Pix: Nathan Scurrah-Happy with the win)
Reigning premiers Mirboo North were beaten by Newborough as the Bulldogs made a last quarter blitz to over run the Tigers. After leading in a close battle all day, Mirboo North failed to score in the last quarter as Newborough piled on 5-2 to win by 26 points.Newborough had 11 players missing (B Michie, M Gelagotis, T Wilson, J Todd, A Battista, M Stanlake, D Disisto, J Cattanach, R Jacobs, D Risol and T Mander) that played in the Grannie while Mirboo North had 5 missing (K & J Nash, J Brooks, D Gardner, and L Palmer).
YYN continued their charge up the ladder with a hard fought game against Yarragon, the scoreline said a 25 point win but it was only YYN's better accuracy that won the match with both sides having 17 shots at goal. Who can remember YYN winning two in a row?
Yinnar were lucky that Morwell East were not stronger as the Magpies wasted opportunities with a 10-24 scoreline, at one stage they were 1-14. Bad kicking=bad football. Tim Aitken finished with six out of 10 for Yinnar.
Boolarra won their second game, at the expense of Hill End. It was the Demons second quarter that lifted them after they were behind in the first term
GO GIPPY TIGERS
What do you do when you have retired as a player? Play golf?, bowls?. Why not try "Super Rules" for over 47 1/2's. The Gippsland Tigers have been successful at this age group but still require more players for season 2015. Modified rules are played and there are many social activities involved plus if you are selected, interstate carnivals. There will be 11 matches this year, some could be under lights. All away matches by bus. The squad train Wednesday nights (6.30pm) at Stoddart Park in Traralgon. This year's coach is former Rosedaleplayer in Tim Ellan and further details can be obtained by ringing him on 0418 355076
INTERLEAGUE
Mid Gippsland will play the Warnambool FL at Morwell East on Saturday May 23rd. Appointed coach is former Trafalgar coach in Chris Kyriacou, training nights are set down for 29th April, 6/13/20 May. All MGFL players are eligible to be selected.
*************************
The updated MGFL constitition is now available to view under the 'administration' menu.