HOME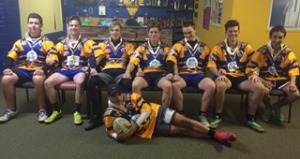 WELCOME TO DAPTO JUNIOR RUGBY LEAGUE
Ph. 0408001568
EXPERIENCE RUGBY LEAGUE LIKE YOU HAVE NEVER EXPERIENCED IT BEFORE
WE ARE OFFERING FRIENDS AND FAMILY OF THE DAPTO CANARIES THE ULTIMATE SUNDAY AFTERNOON WHEN WE TAKE ON THE SHARKS AT JUBILEE OVAL ON THE 31ST OF MAY
FOR ONLY $18 PER ADULT, $15 PER CONCESSION YOU CAN GET:
- GAME ENTRY
- PHOTOS ON THE FIELD
- MEET A FORMER PLAYER
- AND MUCH MORE!
Cheer on your under 10s and then
Our 1st Grade!
Please note:
Minimum numbers apply
TO CHECK IF GROUNDS ARE OPENED ALL CLOSED PLEASE FOLLOW THIS LINK:
http://www.wollongong.nsw.gov.au/facilities/sportrec/pages/sportsgrounds.aspx
ROUND 5 DRAW FOR 2015 IS NOW AVAILABLE UNDER DRAW/RESULTS TAB!
PLEASE NOTE THE FOLLOWING IMPORTANT INFORMATION FOR COACHES AND TRAINERS:
Any Coach or Sports Trainer who has not registered by 1st May 2015 will not be permitted to coach or act as a Sports Trainer in any CRL affiliated competition. Any team that does not have a registered Coach & Sports Trainer/s after this date will not be permitted to participate in any CRL affiliated competition until such time as it complies with the Policy.
PLEASE SEE MERCHANDISE FOR DETAILS ON HOODIES
CONGRATULATION TO THE FOLLOWING DAPTO JUNIORS WHO HAVE BEEN SELECTED FOR REP TEAMS THIS YEAR:
U15 CRL
Jackson Harradine
Mitchell Heffernan
Connor McNally
Kade Warrington
Southern Redbacks U16
Brayden Chater
Braydn Morris
Southern Redbacks U18
Blake Jeffery
WE WISH YOU EVERY SUCCESS FOR THE YEAR!
All Coaches, managers, water runners and FAO MUST register online with the following link:
https://reg.sportingpulse.com/v6/regoform.cgi?aID=106&pKey=2bb0c6af4c693b2a1e49ee85b15ee1db&cID=12118&formID=44031
copy and past the link to your search bar. If you have trouble please email stacey on sac_11076@hotmail.com