2013 Two weeks and Counting !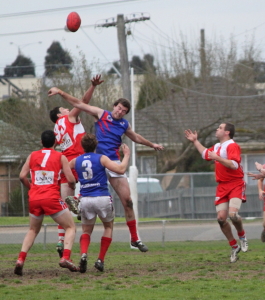 Where back on the air !
Its been a while since we have shared some info, so lets catch up with a brief update.
Firstly we welcome Damien Zanic to the club as Head Coach, Damien brings a great wealth of experiance with him form past roles in the TAC Cup, VFL and AFL, his pre season with the boys has been second to none !
We have had 2 pre season hit outs to date with seniors wins against Northern Saints and West Heidleberg.
( the 19's defeated the Nth Saints and a combined 19's and Reserveres took care of West)
This Saturday is our last Hit out prior to Rd 1, we take on Glenroy at home in all 3 grades.
We welcome Big Lance back for the day and are sure his boys will give the Bloods a solid hit out !
This then Brings us to Rd one on April 13th where we take on Mernda at Home. Make no mistake this will be a great opportunity for the boys to show what hard work has been put in over the pre season !!
Also on the day we have a Sporstmans Luncheon form Midday till the first bounce only $20 a ticket which can be purchased prior or on the day.
Hope to see a big crowd at Sydnety Cres.
GO BLOODS!!