Murchison FNC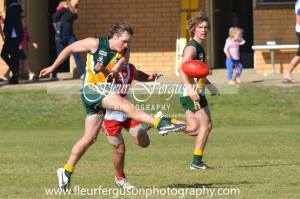 Round Two Report
Our trip to the Lion's Den was a fruitful one with Murchison winning all games or football and netball. The overnight rain threatened to hinder the quality of the match, however the Undera surface responded well and other than a couple of damp patched the oval was in great condition for football.
The Seniors put together a fantastic second quarter to go with three good quarters to take the points from Undera. The improvement made by a number of players has many supporters excited by our prospects this season. Players like Josh Syer, Rhys Newby, Tom McCormick, Mitch Tricarico and David Murray were instrumental in our team performance. Luke Chapman was our best player in a game where he was rarely beaten at Centre Half Back as he continually spoiled Undera's marking attempts and used the football well himself. At the other end of the ground, Brent Chapman was too good for his numerous opponents throughout the afternoon, leading from the front with 7 goals. Tim Ewart won the battle in the ruck as he ran the game out unchanged in that position. Geremie Ganino had another high possession game that we are growing accustomed to, using all possessions with poise. Experienced defenders, Jake Chessells and Steve Burns ensured that Undera were not able to kick a winning score.
The Reserves hit the scoreboard against Undera and were also able to secure the win. Once again we welcomed more new faces to the fold and the group will only improve as they get to know each other. James Turvey was our best player, receiving the BOG Mug, as he worked hard through the midfield and helped himself to 3 majors. John Forde worked hard across the Undera ground as he has many times before. Sam Block put in another workmanlike performance and is proving to be a very good addition to the side. Jesse Anderson played a great game in his first appearance for the club and will be an asset to this side. Jayke Fisher and Luke Forge continued to be reliable and rounded out our better players.
The Under 18s boosted their confidence in a big win over Undera. A focused week at training meant that all 16 boys who took the field contributed with 15 of them kicking a goal! The team worked together across every line and trusted their team mates at every contest. This win is just the start as the boys are now keen to experience the winning feeling on a regular basis. Jack Sanderson claimed best on ground honours with a dominant game in the ruck and was able to add 4 goals while resting up forward (Murray River Spinnerbaits). Michael Watson was too good across half forward and took many strong marks, kicking 3 goals (Brisbane Family). Daniel Williams proved elusive at full forward and converted 5 times (Toolamba Hooters FNC). Tyler Damon played most of the game in the centre and provided a highlight with 5 bounces in one passage of play before hitting the post (Warrick Gregory)! Ned Gale improved again and was dangerous whenever he got the ball (Mooroopna Pizzeria). Nathan Tyler found plenty of the football and consistently pressured the Undera players. Kyle Ogden was also another who played exceptionally well (Sportsman's Warehouse). The boys then stuck around and watched the Senior game – this side is really starting to gel and will take the game right up to Stanhope today.
The A Grade team showed their great potential this week with a valuable win over Undera. The defensive circle of Bridie McCormick and Lauren Boyle were dominant over the opposition shooters. Best on ground went to Sarah MacDonald and Kara McCann for their endless work ethic and drive. It really was a team effort putting practice and plans onto the court with a relentless attitude. Undera 26 to Murchison 43.
A close first half in B Grade saw Murchison only being up by 2. Changes made a half time saw stronger leads and tougher defence. Best on court Renee in GS shot with accuracy and determination. Another great performance in defence by Kristy Jackson making it very hard for her opponent to perform well. Awesome win 29-47. Happy Birthday Shelby Mary!
The Under 15 girls played extremely well this weekend in difficult conditions with a wet court and heavy ball. Focusing on the areas that needed improvement from last week they committed to a consistent four quarter effort, including excellent rebounding at both ends of the court, tight defence from all players and accurate shooting. Best on were Jill, Bridget and Katjana.
Today we host a Sunday fixture against Stanhope. It will be a tough assignment for all teams, but I am sure we will get our share of wins. After today's game we will head down to our major sponsor, Caledonian Hotel, to celebrate our performances.
Toolamba Fishing Competition
The Murchison FNC again supported the Toolamba Fishing Competition. The club worked in catering at the event.
Jake Chessells, Chris & Anthony Pearson formed the band that kept the crowd entertained on Friday night.
Football Training Singlets
David Murray has organised our 2015 training singlets and warm up jumpers. Please see him at training to purchase yours before they are all gone. Singlets are in stock and are $35 each, training tops need to be ordered and are $40.
Netball Teams and Senior Captains Announced
Our Senior Captains for 2015 will be Shane Kay and Jamie Jones, who will be assisted by Vice Captain Jake Chessells and Leadership Group member Steve Burns. The Reserves will be lead by Jack McCormick and Mitch Tricarico, while the Under 18s will be lead by co-captains Bayden Bedwell and Jack Sanderson - Kyle Ogden is the Vice Captain.
Our netball teams have been selected as follows;

A GRADE
Kasey Cook
Kara McCann
Brittney Thomas
Sarah Macdonald
Georgie Eddy
Karita Anderson
Lauren Baldi
Bridie McCormick
Jacqui Harlow


B GRADE
Alicia Ritchens
Jaye Eddy
Shelby Munane
Chelsea Dwyer
Grace Angel
Kat Ferguson
Lou Morris
Sharne Bravo
Kristy Jackson
Alice Milner


C GRADE
Beth Hunter
Laura Ferguson
Leah Pizzini
Rachel Keely
Tara Feehan
Rhianna Hamilton
Megan Kay
Kiara Watts
Shan Gregory
Donna Ryan
Coaches 2015
Senior Coach - Brent Chapman
Reserves Coach - David Murray
Thirds Coach - Craig Thompson

A Grade Coach - Kat Ferguson
B Grade Coach - Sharne Bravo & Assistant Carly Tuhan
C Grade Coach - Sarah McDonald & Assistant Shan Gregory
Under 17s Coach - Narelle Gregory
Under 15s Coach - Alice Milner
1st XVIII Premiers: 1897, 1904, 1910, 1914, 1945, 1964, 1966, 1982, 2013.
2nd XVIII Premiers: 1967, 1972, 1982, 2001.
3rd XVIII Premiers: 1970, 1980, 2010.
C Grade Netball Premiers: 2012, 2013, 2014
Murchison Football Club, Murch Hoppers, Murchison Grass Hoppers, MFC, KDFL, Murchison Netball Club, Murch Footy, Murch Website, Murchison Footy Website, MFC, MFNC, Hoppers, Murchison Football Club, Murch Hoppers, Murchison Grass Hoppers, MFC, KDFL, Murchison Netball Club, Murch Footy, Murch Website, Murchison Footy Website, MFC, MFNC, Hoppers Murchison Football Club, Murch Hoppers, Murchison Grass Hoppers, MFC, KDFL, Murchison Netball Club, Murch Footy, Murch Website, Murchison Footy Website, MFC, MFNC, Hoppers