Home Page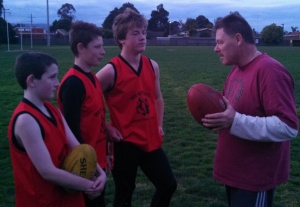 Welcome to West End Junior Football Club
Photo of the week: U14 players Zach Hawke, Levi Baily and Matt Williams listening to specialist coach Ken Baily at training.
TRAINING START DATES FOR 2014 SEASON
U10 Team / Wednesday 5 March 2014.
U12 Team / Wednesday 5 March 2014.
U14 Team / Monday 17 February 2014.
U16 Team / Monday 10 February 2014.
Notes:
Above dates may change. Please visit website to confirm.
U10 and U12 will train for one night per week initially.
New players and players transfering from other clubs to see team managers for registration forms.
For more information, contact Adam Lambert.
COACHING AND TEAM STAFF POSITIONS FOR 2014
The committee is seeking expressions of interest for coaching and team staff positions in 2014. Some existing coaches will be available to coach next year and it would be great to see a parent from u10's putting their hand up to coach that team next year.
New coaches will have to do a one day coaching coarse paid for by the club.
Please contact Adam Lambert (President) by email (
caddpro@bigpond.com
) to register your interest.