Home Page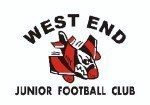 Welcome to the website of
West End Junior Football Club
Home Ground JC 2 and JC 1, Douglas Parade, Traralgon.
P O Box 540, Traralgon, 3844.
Club contacts:
Dave Huggins (President) 0408 592 253.
Rachel Middleton (Secretary) 0429 674 359.
2015 Fees
Our 2015 fees are due. Please go to the players tab, click on your season information, and all the club banking details you require will be there. 2015 fees are to be payed by Round 3.
Team Photos
Round 7 May 31 2015.
AFL Game Day
Saturday July 11 2015.
Go the Mighty BOMBERS.
Training Dates
U/10 Training will be 4:30 to 5:30pm. (Wed/Fri nights)
U/12 and U/14 Training will be 4:30 to 6:00pm. (Wednesday nights)
and 4:30 to 5:30 ( Friday nights )
U/16 West End and Police boys are combining as Power for season 2015.
Training will be 4:30pm at Apex Oval.
Boot Swap
If anyone has boots their children no longer require, please bring them down to training. You can swap them or donate them to the club. If any parents require these boots for their children they will be free of charge.
Coaching Staff
If there is anyone who would be interested in a Team Manager role for our U/12 team. Please go to our coaching staff tab, click on contact details and express your interest to your selected age group.