Home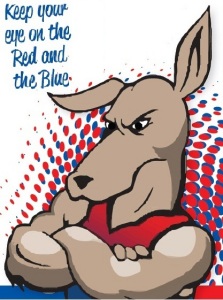 Major Sponsor
Lakes Village, Mount Gambier
NEW PHONE NUMBER: 08 8797 8179
Footy News
Well, 3 games into the season and the boys are 2 & 1 and face the North Gambier Tigers at Malseed Park this weekend. A stand alone game and reasonable weather promises a big crowd. I'm sure our boys will be up for the challenge.
After a disappointing start against South Gambier, rallied and fought out a gutsy 3 point win against Millicent, and then followed it up with a god win in a foreign environment, under lights at McDonald Park, against East Gambier.
The young Roos who have been given their chance haven't disappointed Coach Keith Ransom, and names like Mark Smith, Doug Lloyd, Adam Cram, Aaron Vonstanke, Keanu Hawke and Adam Gibbs will become familiar names in our seniors, for years to come.
They now compliment Brad Wilson, Steven Wenman, Joel Carter, Joe Ferg- Lane, Jarrad Ryan and the likes of to become a rapidly improving group that will give any side in this competition, a shake on their day.
The Reserves have been slow to start and whilst winless thus far, came home with a wet sail last game and almost pulled off a memorable victory.
The U/17s, under the guidance of Mike Muhovics and David Stratman continue take all before them, however will be tested in the coming weeks.
Stephen Lock and Paul Beckman's young U/15 Roos have found the going a little tougher, however there has been glimpses of good passages of plays in recent weeks and I'm sure there is a win not far away for the boys.
Junior Football
With the change to Under 15 footy to Saturdays, has probably lightened the load somewhat, for Shane Hosking and Junior Committee, however with, 110+ registered U/12 and U/14, would certainly still keep everyone on their toes!
The U/12's had a Friday night game last week, and with good weather and meals available, saw the Club lounge full and the Cricket clubs first kitchen duty, rather a hectic, but successful one.
Netball
The Netball Girls are mirroring the Footy, with mixed results in various grades. Our A Grade, A Reserve, B and C Grade, all inside the top 3. However serious injuries to some girls may test their depth in the coming weeks.
We wish all a speedy recovery.
Our younger under-age girls are finding it a little tougher, but with young groups, and experienced coaching staff looking after them, I'm sure will see a vast improvement by the end of the season.
Cricket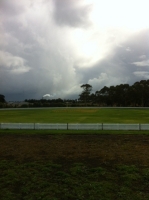 Whilst it is off-season for their sport, work has continued on the Cricket Clubs new turf facility, with the recently erected picket fence getting a coat of paint in recent weeks and final touches to the underground irrigation system in readiness for the new season in October. Congratulations to Bray Stephenson's West Gambier Player of the year Award. Bray is currently in England playing cricket, and by all reports doing very well. Congratulations also to Shane Dycer being awarded Life Membership.
Tennis
The A1 and B1 sides made the Grand Final only to be defeated by Glencoe and Mil-lel respectfully.
Congratulations to Wendy Cook and Lee-Anne Ballintyne on Life membership of the Tennis Club.
Club Upgrade
Activity has been constant in recent months, with the ceiling beams, stage and wall being lightened up. A big thank you, to the Netball, Cricket and Football people, who helped with preparation and Terry Tannian for the painting.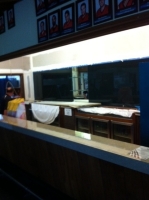 The bar has undergone a transformation also, with new splashbacks, Gyprock, bar tops and bar front being freshened up.
Contributions from Tommy Stokker (Custom Kit Kitchens) Paul Beckman ( Banner Hardware) Bruce Davey and Kris Jarnevic (Viridian), together with Clint (Tank) Cowell, Kayne Badman, Joe Ferguson–Lane, George Weyers & Terry Tannian, have been huge, over last weekend's supposed "week off", and has been outstanding and integral. We thank all of these people and other who have contributed in any way, at all.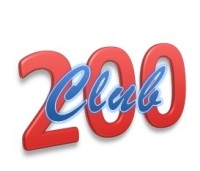 Commences, 15th June for 10 weeks. Available tickets going fast! Contact Jackie, at the Bar or Kris Jarnevic.
Sponsors
Whilst Sponsorship is hard to maintain let alone attract, and with no Local News for exposure, we welcome 4 new Sponsors on board, in Gordon Refrigeration, MGA Insurance, Nathan Millett Concreting and Viridian. Let's get behind these and existing Sponsors and support them wherever we can.
Membership
With many people renewing their membership, we encourage the ones who haven't, to "get onboard the Roos in 2013" as it is never too late to renew, with membership being value added, with over a dozen of our sponsors offering discounts and continuing for the full 12 months, eligibility of the Members Cash Draw, every Friday night, being available.
Saturday Canteen
******Wanted ***** Canteen Co-Coordinator for remaining 6 Saturday Home Games and possible finals. This is a paid position. For further details, please ring David Badman on 0417372707
Club Jackets Available to order. Click Here for details.
Club bags are also available via the Juniors. Colleen Tilley is the contact to order these @ $30ea
Latest Roos News from "The Western"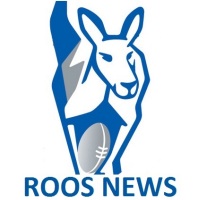 Click on icon to read latest Roos News article from The Western - the WBFL's official match day booklet