Home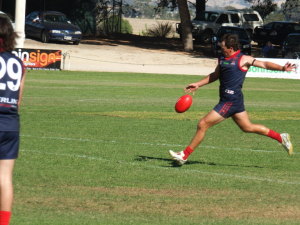 Round 5 - v Willaston at Freeling
This week sees us take on Willaston at home. Let's get out there and support all our our boys, especially the A grade as they take on the ladder leaders.
RUBIX CUBE PARTY
Don't forget we also have our Rubix Cube party. Join us at the clubrooms for our first social club event of the year.
How it works:
1. Come dressed in all six rubix cube colours (red, orange, yellow, green, blue and white)
2. Spend the night swapping clothes with other people until you're all in one colour!

Hats, scarves, shirts, vests, jackets, gloves, shorts, pants, underwear, legwarmers, socks, and shoes are all fair game! If you're having trouble finding clothing you can part with please support our local OP shop and grab a few bargains.

Colourful drink specials will be available.

DJ 'til late!
Round 4 - v Tanunda at Tanunda - Match Reports
A's
Straight kicking was the failure for A grade on Saturday, which meant there was not enough reward for a lot of hard work. A final term of 4.5 also hurt and a disappointing 13 point loss was had.
Best players Matthew Steven, Scotty Williams, Andrew Kemp, Sam Carmichael and Lachie Heinrich.
Freeling 12.17.89 def by Tanunda 15.12.102
B's
After their great start to the season, the B grade were brought back to reaity against a strong opposition.
Best players Ash Hornby, Jimmy Kerin, Paul Erskine, Jack Hancock and Anthony Graham
Freeling 5.6.36 def by Tanunda 11.15.81
Under 17's
The boys had a very tight first half, leaving them only six points clear at the main break. In the second half they oustscored Tanunda 8.4 to 2.2.
Best players Matthew Ortlepp, Adam Byster and Tyson Barnes
Freeling 15.11.101 def Tanunda 9.3.57
SPONSORS
SUPPORT THE SPONSORS THAT SUPPORT US
Make sure you check out our sponsors and please utilise their services whenever you can. Without there support our club would not function.