Home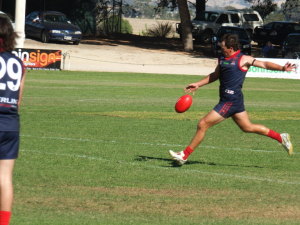 Round 5 - v Willaston at Freeling
Under 17's
We knew with this game a tight contest would be had and tight it was. We let ourselves down at times with inaccuracy in front of goals, especially the second quarter, keeping Willaston in the game. Much credit to the boys though as a big last quarter, never say die attitude, got us the 2 points by 2 points. Team wishes to thank Nic Pascale for all you do, well done. Better players were Hayden Martin the Argoweld Award. Tyson Barnes receiving the Adelaide Timber & Building Supplies Award. Adam Langford taking home the Roseworthy Roadhouse Open 24 hours and Drake Foodland Award.
Freeling 12.8.80 def Willaston 12.6 78
Reserves
Yes we are now calling them the Reserves. Given a reality check last week the team bounced back strongly. Coach still wants the boys to work hard on getting it right all game, selection headaches for him and they can only do what he wants to keep getting that game. Forward line entry needs work, we cannot just keep blazing away or it will come back and bites us. Still a strong win was important and it is what we got. Anthony Graham picking up the Lienert Australia/Agpoint Australia Award for our best. Jack Hancock taking home the Freeling Hotel Award, Roseworthy/Gungullen Hotels Award to Pascal Urlings and Dave McLean picked up the Shanahan Transport Award. Mention to Nick Anders for his effort, Coach's Award.
Freeling 14.13.97 def Willaston 6.3.39
A Grade
Football lesson given by a strong committed opponent. Willaston jumped out early, out muscled us, almost intimidating us and we were never able to recover. We will learn from this and be a better team for it. Sterling Homes/Gawler Farm Machinery Award for best player to Tyson Ruediger, Scott Williams picking up the Sellecks Transport and Barossa Plains Meat second best Award. Darren Leske receiving the Freeling Hotel Award, Beau Jarman the Shanahan Wines Award and Hayden Robinson getting the nod for the Lieinert Australia Bottle of Wine.
Freeling 10.5.65 def by Willaston 24.16.160
This week off to Kapunda, no more needs to be said.
Go the Redlegs
SPONSORS
SUPPORT THE SPONSORS THAT SUPPORT US
Make sure you check out our sponsors and please utilise their services whenever you can. Without there support our club would not function.