NEWS & REVIEWS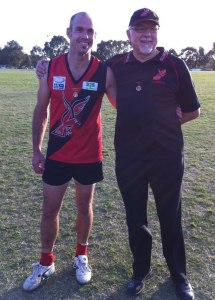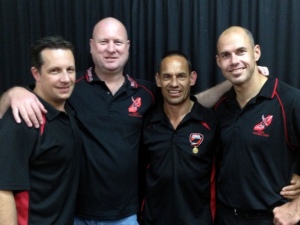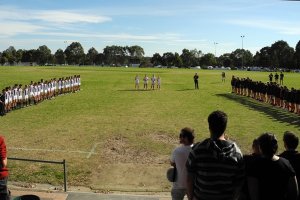 Our next club function will be a Ladies Lunch, to be held at our next home game on Saturday 18th May (12 - 2pm).
To book a ticket please contact Jane (ph:0419480653 or janebarbanti@gmail.com) or Heather (ph:98016858)
****
We celebrated a very special day on Saturday 27th April, opening the proceedings with an Anzac Day reflection followed by a minutes silence and the National Anthem. We thank Scoresby Football Club for their participation also
At the end of the match we congratulated Paul Tredrea on his 250th Game
Paul was presented with his Life Member badge by his dad, fellow life member, Andrew Tredrea
Paul is pictured here with 250 game veterans Rod Marget, Chris Chambers and Mark Laval.
It was great to see so many Past Players enjoying the day also, we hope to see you all back here more often.
Thank you to all the players and families that provided casseroles for us to enjoy at the end of what was definately a day of celebration.
Saturday was a true reflection of the community spirit that forms such an integral part of the Knox Football Club.
****
Make sure you keep up to date with all the happenings around our club by clicking on Events Calendar and the Newsletter, these pages are being updated regularily.
****
To find out all the information on your team or favourite players click on Fixtures/Results then select the team you are interested in.
From there you can view Team Stats or select Player and access player photos, profiles and stats