Weekend Results 24/25 May
This weekend saw a lot of gaols being scored across all the games including the senior men which resulted in 10 goals and an average of over 6 goals a match. Entertainment plus!
Well done to all teams - final results below
Senior Men 5-5 draw
Reserves Men 1-3 loss
Senior Women 2-7 loss
Under 17 Boys 3-1 win
Under 16 Girls 9-2 win
Under 15 Boys 2-5 loss
Under 14 Wanderers 3-2 win
Under 14 Boys 1-7 loss
Under 14 Girls bye
Under 13 Boys 0-6 loss
Under 12 Wallabies 6-0 win
Under 12 Blues 0-5 loss
Under 12 Girls 1-4 loss


Last Modified on 26/05/2015 10:11
Chelsea FC and Melbourne Victory
On Sunday 17th May, 10 Lucky boys from the Under 9's attended the sell out A league Grand Final between the victorious Melbourne Victory and Sydney FC. Prior to the game the boys were taken under the grandstands, changed into their kits and had professional photos taken with the A-League Trophy. While the A-league teams warmed up the crowd the 10 boys sat nervously in the grand stand waiting for the call up. After seeing the 1st goals the boys were collected by Victory volunteers and taken below the grandstands to run out on the pitch at half time.
Once the A-League teams were off the pitch the boys came out to entertain the 29,854 strong crowd. The boys were split into 2 groups of 5 and played against Essendon Royales and Eltham. They came back to their seats during the second half. And saw all the goals and cheered along the Victory. The boys wore their Chelsea kit while they sat in the crowd. They had a fantastic day and their behaviour was impeccable. They were a credit to themselves, their parents and the club. This will be a day they will never forget and hopefully will be able to recall with each other as they continue to enjoy their football with Chelsea in the future
A big thank you to John Bowles, who is the Victory Liaison Officer at the club for giving the boys a once in a lifetime opportunity.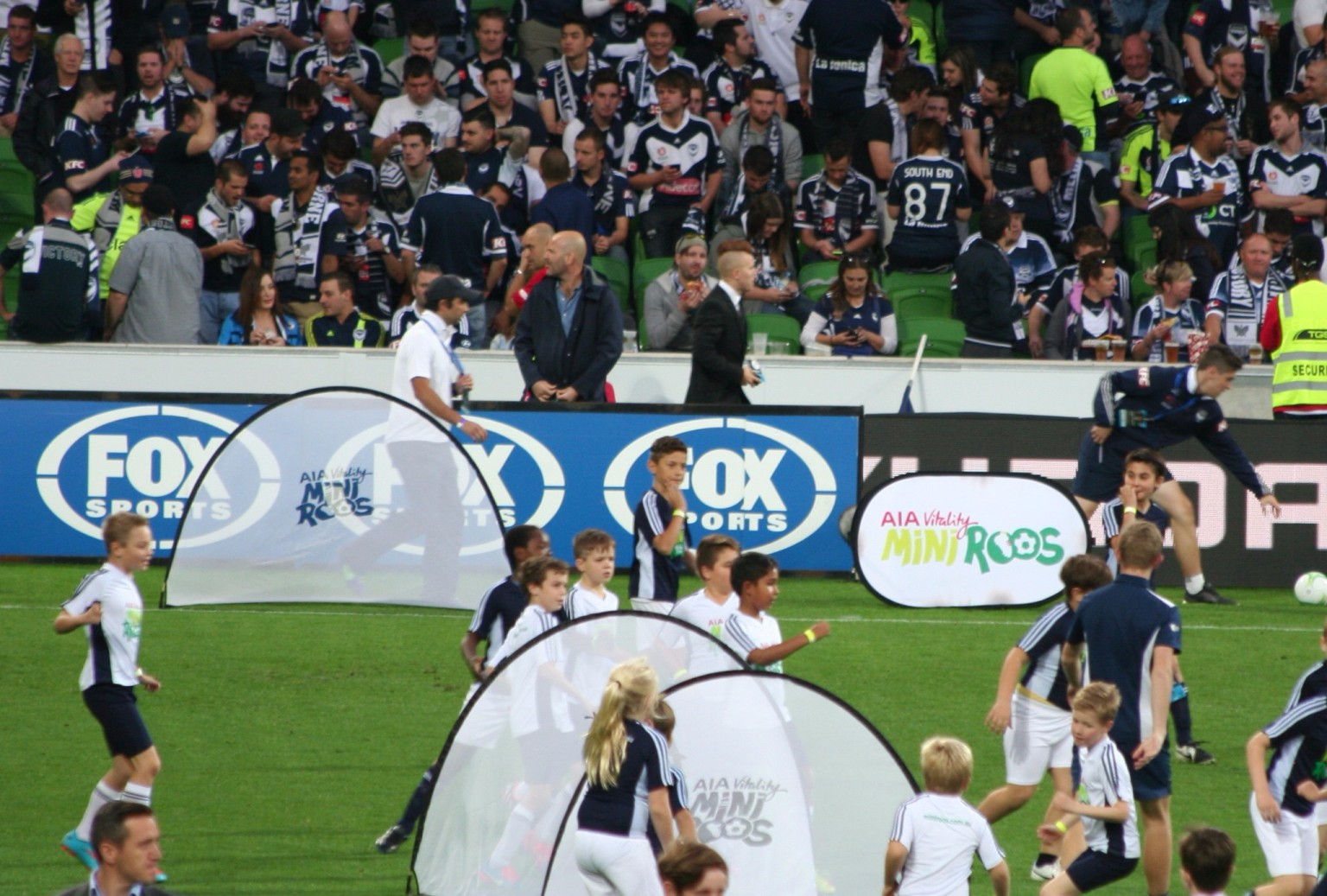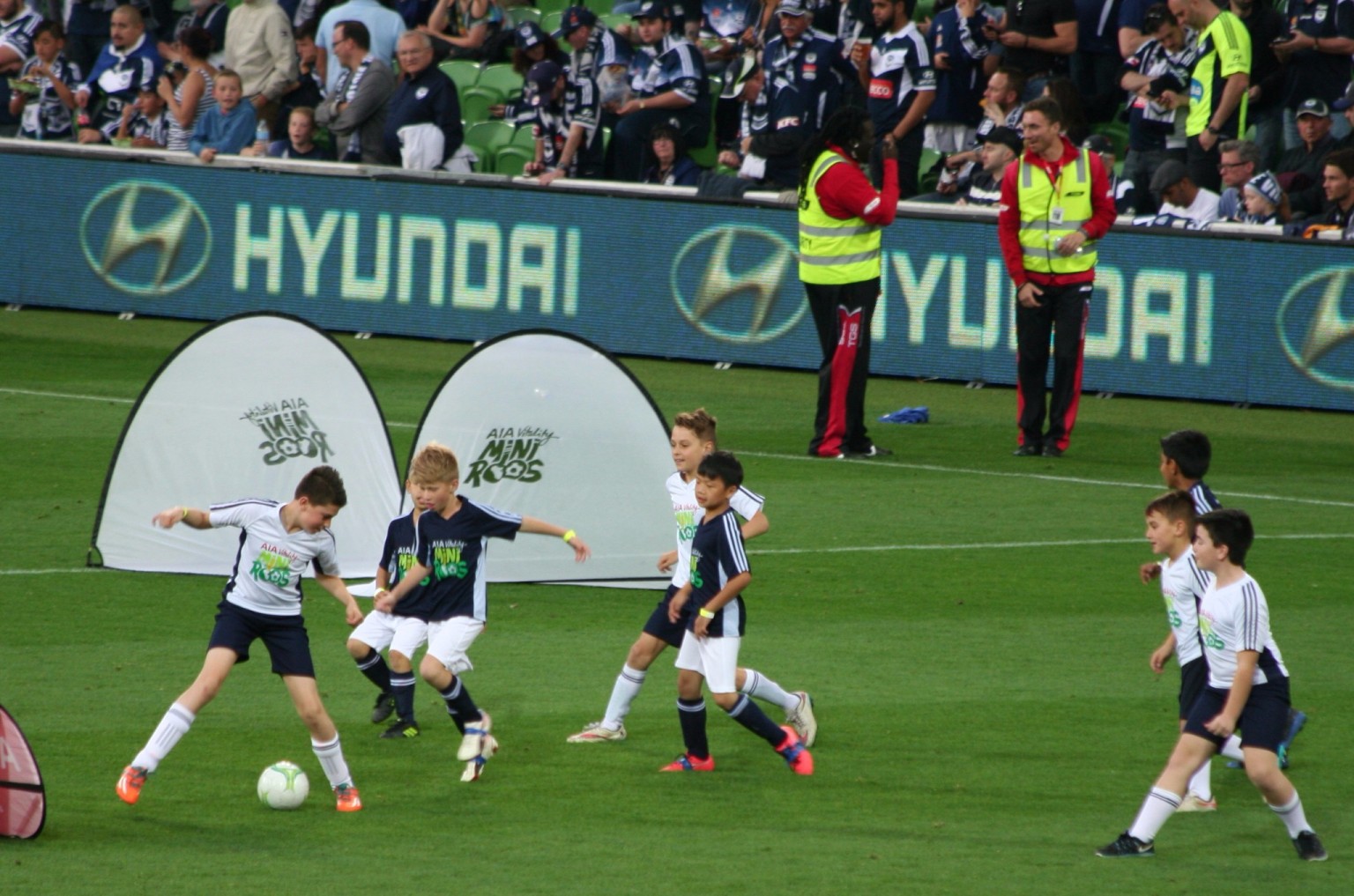 Last Modified on 22/05/2015 08:59
Weekend Results 17/18 May
Final scores for all games from Under 12s up are shown below plus a few matchday photos. Make sure you send in your photos so you can be featured here for all to see.

Senior Men 8-1 win
Reserves Men 1-4 loss
Senior Women 0-2 loss
Under 17 Boys 6-1 win
Under 16 Girls 6-0 win
Under 15 Boys 2-2 draw
Under 14 Wanderers 5-4 win
Under 14 Boys 0-2 loss
Under 14 Girls 1-3 loss
Under 13 Boys 0-1 loss
Under 12 Wallabies 0-3 loss
Under 12 Blues 2-2 draw
Under 12 Girls 0-7 loss


Last Modified on 21/05/2015 16:05
Weekend Results 10/11 May
Round 4 saw the visit of Tim Richardson, member for Mordialloc down at the club to check out all the sub junior action on Saturday and the continuation of the super-crazy-ultra-busy HAVE A GO sessions for the sub sub juniors :) plus matches in blustery rainy conditions on Sunday on Mother's Day. Results of all matches for Under 12s up below plus plenty of great accompanying pictures. Well done all Chelsea FC teams!
Senior Men 1-1 draw
Reserves Men 3-0 win
Senior Women 1-5 loss
Under 17 Boys 2-2 draw
Under 16 Girls 7-1 win
Under 15 Boys 7-5 win
Under 14 Wanderers bye
Under 14 Boys 5-2 win
Under 14 Girls 1-1 draw
Under 13 Boys 0-7 loss
Under 12 Wallabies 3-1 win
Under 12 Blues 2-4 loss
Under 12 Girls 3-0 win


Last Modified on 11/05/2015 14:37
HAVE A GO at Chelsea FC
All I can say is how proud I am of our club Chelsea FC conducting such a fun filled free 1 hr soccer clinic for the families of the Local community. This initiative by our club must be noted as possibly the only sporting club in Victoria promoting a free program of its sort - 10 weeks of 1 hour "free" fun filled sport for our community.
What a fantastic turn out on the weekend when Chelsea FC launched their HAVE A GO at Chelsea FC program to encourage 3, 4 & up to 5 year old Children of the local community just to have a go at playing soccer. Over 60 boys and girls registered for the free 10 week program.
The Children had so much fun & the parents loved every moment knowing the children will sleep well thanks to Chelsea FC. Many many thanks to our coaches: Ronic Kumar, Zac Lansdell, Shanelle Ramsey, Emilija Romic and Eddie Ziada.
A massive thank you goes to Melbourne Victory in teaching us at Chelsea FC how to give something back to the community as MVFC have done for many years.
See you all one day on the Chelsea FC pitch.
Dom Boccari, President Chelsea FC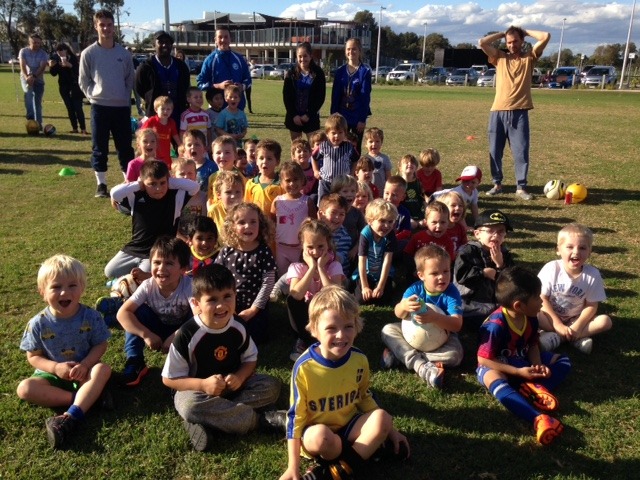 Last Modified on 04/05/2015 09:23
Weekend Results 25/26 April
Round 3 saw most teams other than the Under 12s have a tough week on the scoreboard. Final scores for all games from Under 12s up are shown below plus a few matchday photos. Make sure you send in your photos so you can be featured here for all to see.

Senior Men 2-5 loss
Reserves Men 0-6 loss
Senior Women 1-3 loss
Under 18 Girls 1-6 loss
Under 17 Boys bye
Under 15 Boys - 1-4 loss
Under 14 Wanderers 0-2 loss
Under 14 Boys 3-1 win
Under 14 Girls 2-4 loss
Under 13 Boys 1-2 loss
Under 12 Wallabies 1-1 draw
Under 12 Girls 7-0 win
Under 12 Blues 3-1 win

Most teams have this coming weekend off for the first FFV catch up round so enjoy your sleep in if you do get one and see you all at training - don't forget upstairs will be open to shelter from the weather if you can make it down.


Last Modified on 28/04/2015 16:53
Ready to HAVE A GO at Chelsea FC
What a HUGE response we've had for this program in the past week.
There are going to be a lot of happy little kids running around our grounds Saturday afternoons starting this weekend!

Parents you will be contacted Thursday morning to confirm your spot if you have already been in touch to express your interest.
All information on these free lessons are listed below
Last Modified on 28/04/2015 14:39
UPSTAIRS OPEN ON TRAINING NIGHTS (Tues - Fri)
Hello all Chelsea FC members. Are you feeling that chill in the air? How are you enjoying standing out in the rain watching your kids train? We thought so - so as of THIS WEEK we are opening up the upstairs area of our club rooms and hope you join us out of the bad weather to say hello and have a chat or watch some TV.
If we have enough interest we will keep this going all winter.
Between 5.30 - 8.30 pm on Tuesdays - Fridays (no Monday for now).
Available will be HOT drinks PLUS food - hot dogs, sausage rolls and pies.
Last Modified on 27/04/2015 10:32
Round 3 Home matches
Saturday 25 April
9am - U8 Chelsea Sky Walkers v Glen Eira Highlanders - Pitch 2A
9am - U9 Chelsea Lightning v Brighton Falcons - Pitch 2B
10.10am - U9 Chelsea Knights v Narre Warren Wanderers - Pitch 2A
10.10am - U10 Chelsea Thunder v Brighton Sharks - Pitch 2B
10.10am - U11 Chelsea Sharks v Mt Eliza Reds - Pitch 3A
10.10am - U11 Chelsea Bulls v Sandringham FC Three - Pitch 3B
11.10am - U10 Chelsea Warriors v Langwarrin - Pitch 2B
11.10am - U10 Chelsea Samurai v Chelsea Warlocks - Pitch 3A
Sunday 26 April
9am - U10 Girls Chelsea Meerkats v Dandenong City - Pitch 2A
10am - U12 Girls Chelsea v Glen Eira Mercury - Pitch 2
11.20am - U13-14 Girls Chelsea Blue v Casey Comets - Pitch 2


Please be aware: ANZAC Day 2015 marks the centenary of the landing of the Allied forces at Gallipoli in World War One. This year, ANZAC Day will fall on a Saturday and a number of sporting fixtures across the state will be affected and must comply with the Anzac Day Act 1958.
All teams playing on ANZAC DAY should observe and honour our fallen ANZACS with a minimum of a minutes silence before all fixtures.
Keep sending in those photos and match reports - your photo may end up on our weekly roundup if you get it in early enough: website@chelseafootballclub.com.au.
Most teams have dedicated webpages set up now on the club website - if your team does not make sure you chase up your coach or team manager to get us the information.
Have a great game on the weekend everyone - next week is a catch up round / bye for most - if not all - teams so make this week count!
Last Modified on 23/04/2015 10:23
Weekend Results 18/19 April
Well done to the senior men's team who had a great win in front of ever growing crowds. It's great to see more and more people come out and support them for their home matches. Next time they play at home make sure you are one of them as they put on a great style of football.
Full results for Under 12 up listed below - again thanks for all the photos (some of which are featured here) and match reports, they will all be up on your team webpages soon.

Senior Men 4-0 win
Reserves 1-3 loss
Senior Women bye
Under 18 Girls 0-3 loss
Under 17 Boys 2-1 win
Under 15 Boys 2-8 loss
Under 14 Girls 6-1 win
Under 14 Boys Wanderers 1-1 draw
Under 14 Boys D 3-0 win
Under 13 Boys 2-3 loss
Under 12 Girls 1-8 loss
Under 12 Wallabies bye
Under 12 Blues 0-6 loss


Last Modified on 20/04/2015 16:49
Look who dropped in to say hi.
The Mayor of the city of Kingston council, Geoff Gledhill was very pleased with the amount of Children playing the worlds sport. He was also happy to see the amount of supportive parents encouraging the children in having a go.
As well as Geoff one of the south ward members of council, the young and very talented & supportive David Eden dropped in to spend time with the teams.
Chelsea FC is a club that has a lot of interest in becoming the next big thing in town besides Kingston Heath.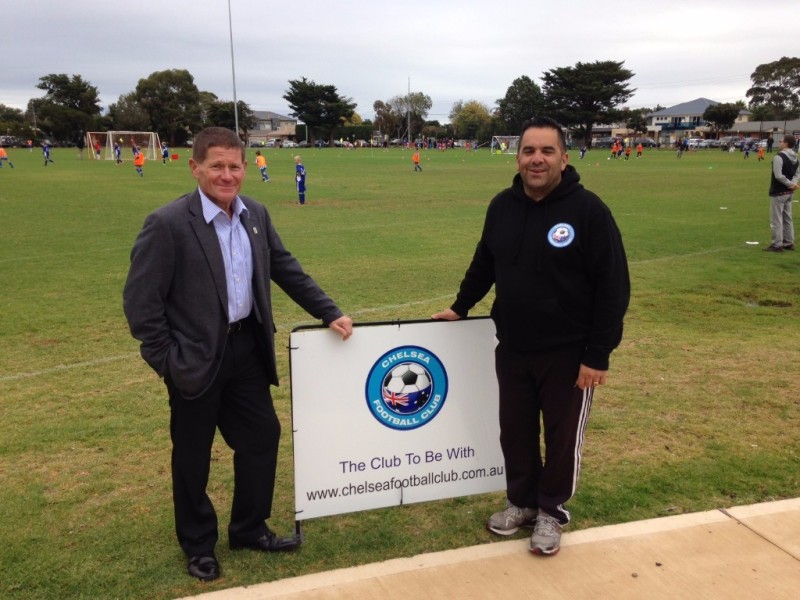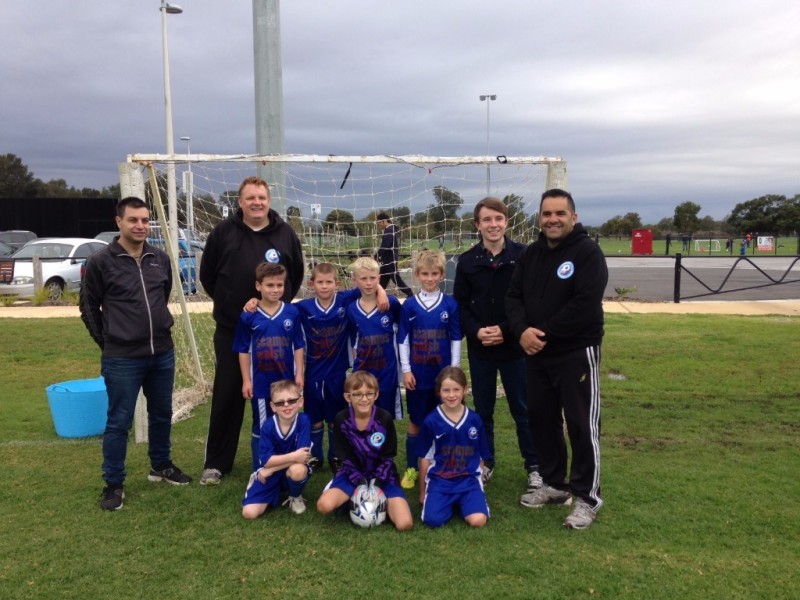 Last Modified on 20/04/2015 14:18
JUNIOR REFEREE PROGRAM AT CHELSEA FC
In Response to requests for a junior referee development program we have come up with the 'Gold Coin Referee Program' which will begin at the club this Saturday. Daniel Passante and Will Overberg from the U14s will be our first 'gold coin referees' - please join us in congratulating and thanking these young men.

If your side needs a referee for its match you are able to engage a Chelsea FC Gold Coin Referee. The reference to the gold coin is that the parents will make a gold coin donation to pay for the referee's time i.e. you rattle the can and do a collection.

Please keep in mind:
• This is a grass roots program.
• The Gold coin referees are 12 to 16 year old members of the Chelsea soccer club
• The referees are kids. Please Respect the referee in all instances
• The Gold Coin referee can referee Under 7 to U11 matches.
• The GC Referees are volunteers who have practical experience and training – but they are not FFA or FFV qualified
• This is a great opportunity to give young people in the community an opportunity to take on and manage responsibility
• This program will help teams find a referee when a parent volunteer is not available or would prefer to watch their child play.
• A Chelsea FC Team Manager or team representative should collect gold coins as payment for the referee. This should be done before the game commences.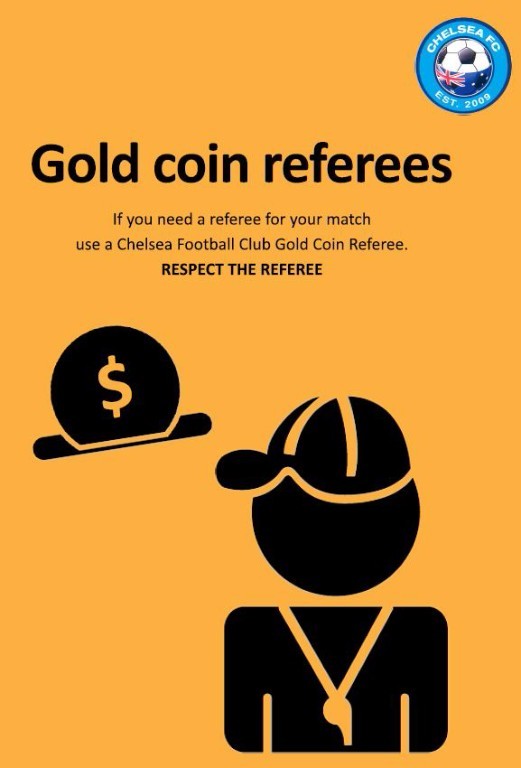 The ultimate duty of care and responsibility of the GC Referee is with the team and team manager who engage them to referee.
This is a community program where older kids are refereeing younger kids – We need all parents and supporters to keep this in mind and support the Gold Coin Referees.
Last Modified on 16/04/2015 14:28
WELCOME ABOARD LIFESTRONG


Chelsea FC is excited and proud to welcome Lifestrong as a sponsor in 2015.
As part of their sponsorship, LifeStrong will offer our senior teams free physio & health services twice a week at the Club during the season - a training night and game day. If you see Daniel around at the club say hi or drop in on them down at their offices if you need any physio help.
http://lifestrong.com.au/
https://www.facebook.com/lifestrongphysio?fref=ts
Last Modified on 16/04/2015 11:58
Last Modified on 31/03/2015 11:39
Spot your coach!
Thanks to Rob Giabardo, Chelsea FC conducted our second coach the coach seminar with our fantastic coaches for 2015.
It was great to see everybody make themselves available on a Sunday evening.
Can you see your coach hiding in this group photo?

Last Modified on 16/03/2015 14:21
Chelsea FC is proud to welcome Premier Football Tuition
PFT will be based at our club to offer Goal Keepers of all ages the opportunity to further develop their goal keeping skills.
Head coach and facilitator, Alfonso Cardnale "Fonz" will be offering this extra curriculum to Chelsea FC members and other goal keepers in the southern zone of Melbourne.
More details of PFT coaching nights will be out shortly.
2015 Members of Chelsea FC will be invited to a free PFT clinic shortly, once assessed by Fonz the Chelsea FC goal keepers will be placed into groups of (maximum 6) then trained on a specific night at a heavily subsidised cost by Chelsea FC.
Goal keeping sessions will be in 10 week blocks.
Each 1hr session normally costs over $50-60 dollars, 2015 Chelsea FC goal keepers will be only charged $15 per 1 hr session, 10 week blocks will only cost you $150.00 normally $500-$600, up to $400 savings only to our 2015 members
Chelsea FC truly is "the Club to be with"


Last Modified on 02/03/2015 11:39
Chelsea FC hosting FFV course
Chelsea FC had the pleasure of hosting FFA / FFV grass roots coaching recently.
FFA / FFV instructor Steve Fisher conducted a 3hr session with 24 coaches from clubs with in the south east suburbs of Melbourne including Chelsea FC coaches Daniel and Dimi. Chelsea FC will be hosting FFA / FFV coaching seminars over the next 5 weeks.
Chelsea FC will continue to offer our fantastic facilities to the FFV to conduct this type of training for all coaches and clubs in the coming years.


For detail of seminars please visit:
Skill Training: http://bit.ly/17V4tM3
Game Training: http://bit.ly/1MPEiXX
Last Modified on 25/02/2015 11:01
Grounds update for 2015
Hello Club Members,

On Thursday 13/11 at 11.30am there was a meeting held on the playing fields at our grounds, pitches 1,2 & 3. In attendance of this meeting there was several people involved including the decision makers of the sports and recreation department of the city of Kingston as well as 4 club representatives. I would like to inform you all there is a commitment bigger than ever to get all 3 grounds right for 2015 and beyond by council and our club.
The plan going forward
Pitches 2 & 3 will be fenced off to the public in the coming week or 2
Pitch surface 2 & 3 will be spayed for any unwanted weeds.
Turf will be laid in the bare patches throughout pitch 2 & 3
Top dress all 3 playing fields with several hundreds if not thousands of cubic meters of sand including kikuyu grass seed to make the surface as flat as possible with the best grass coverage available.
Commence watering as soon as possible to allow the Kikuyu grass to spread with the existing grass to give us the best playing surface possible.
It will not be like the MCG but it will be significantly "better than it's ever been".
Club Representatives with Council will meet again mid to end January 2015 to see the progress of this positive plan with extensive work on pitches 1,2 & 3.
The club has already commenced positive discussions with Kingston Council to plan for alternative training venues for pre season and any other soccer activities leading up to Christmas and beyond till the end of day light savings.
The Club is committed to investigate with full co operation of all coaches better ways to remove massive amounts of players training on pitches 2 & 3 on any given night.
Chelsea FC has and always will remain committed to provide the best community club in the south east suburbs of Melbourne to play soccer for all girls & boys", a true "club to be with".
Best wishes
Domenic Boccari
Club President
Last Modified on 17/11/2014 12:37
2015 Committee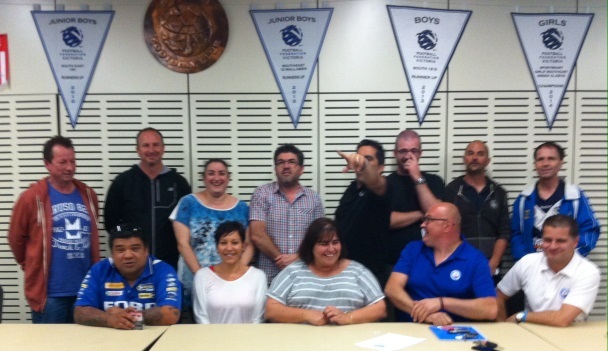 Chelsea FC is proud to Announce the 2015 committee.
President: Dom Boccari
Vice President: John Zeccola
Secretary: Julie Terlato
Tresurer: Seamus Walsh & Tom Zepackic
Director of Football: Robert Giabardo
Coaches Mentors: Juan Noguera & Steve Kucnic
Sub Junior Co Ordinator: Peter Sinclair
Boys Co Ordinator: TBA
Girls Co Ordinator: Peter McCarthy
Disciplinary Officer: Robert Dodich
Sponsorship: Robert Dodich
Canteen & Functions: Tina Laudani
Melbourne Victory Liason: John Bowles
Council Liaison: Rod Lephamer
Fund Raising: Paula Zeccola, Julie Terlato & Chris Dorego
As the President of our fun filled family club I would like to thank the great people who have kindly volunteered their time to assist Chelsea FC to become, a bigger and better club on how we provide the players and families an enjoyable time playing the sport they love and feeling part of "The Club to be with".
Best wishes
Domenic Boccari
Chelsea FC, Club President
Last Modified on 17/11/2014 14:19