Find Us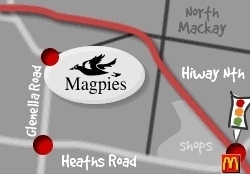 Registration fees incluces Club Shirt, Socks and Shorts
Please complete the MEDICAL FORM located under Document Links.
Check out the 2015 Jeserys, Socks and Shorts located under Document Links
All Age groups have maximum participants
Training for all age groups will be on
Tuesday and Friday afternoons from 4.30 - 5.30 pm.
Games are played on Saturdays at Mackay Junior Rugby League Grounds
Wet weather number 49656188
All Volunteers must register ONLINE
"GO the Mighty Magpies"