Home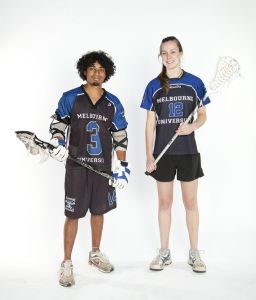 ABOUT MELBOURNE UNIVERSITY LACROSSE CLUB

Melbourne University Lacrosse Club was established in 1883 and is the oldest continually operational lacrosse club in the world.
Our club competes in the Lacrosse Victoria competition and is the only university lacrosse club in Victoria. We have two men's teams (Division 1 and Division 3) and one women's team (B Grade). We run a junior program at Melbourne High School which currently fields two u/17 teams and an u/15 team, as well as various clinics at local Primary and Secondary schools in the Brunswick area.
Melbourne University Lacrosse Club is a very social club, with plenty of events including pub crawls, the annual trivia night and cocktail party. We also take part in an annual Intervarsity competition against Adelaide University, taking turns to host the competition.
O-WEEK & NEW PLAYERS

If you missed us at O-week its not too late. We are currently running training sessions tailored to people with no previous lacrosse experience. If you want to contact us the best way is by liking our facebook page "Melbourne University Lacrosse Club" and sending us a message.
To answer the most frequently asked questions from O-week:
1. Yes we do have a women's team; and
2. No you don't need to have any previous lacrosse experience.
CAN I PLAY LACROSSE?
We openly welcome experienced players and new players alike to become part of the club. You don't need to be a student or alumni to join.
The season began in April and the season concludes with finals in September. You can still join even though the season has already started.
If you are interested in joining the Melbourne University Lacrosse Club "like" us on facebook and send us a message. Alternatively you can email president@mulax.org.
TRAINING AND MATCHES
The 2015 season commenced on the weekend of 11/12 April and will continue until finals in September.
We are currently training Monday nights 6pm-8pm at the hockey pitch at Melbourne University. Contact us on facebook for more information.
During the season our match times are:
- Men: Saturday 2.30pm
- Women: Sunday 1.15pm
- Boys: Saturday 11am