HOME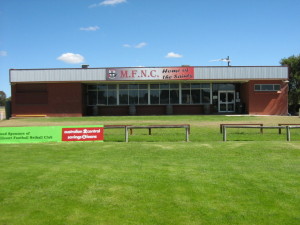 MILLICENT FOOTBALL
NETBALL CLUB Inc.
Welcome to the Millicent Football Netball Club homepage.
MFNC plays in the Western Border League and is Millicent and district's only representative at this premier level.
WEAR YOUR COLOURS WITH PRIDE!
ORDER YOUR POLOS AND HOODIES FROM IN 2 TROPHIES
NOW!!
MFNC presents
Kids Disco
Saturday 25th May
Millicent Football Netball Club
7pm-9.30pm
$5 entry
Age 7yr-13yr old
Drinks, Chips & Chocolate bars for sale.
ALL WELCOME, BRING A FRIEND!!
Parent supervision.
Children must be dropped off at the door & picked up from the door.
______________________________________________________________________
Merv Hughes & Doug
Hawkins
7 pm on Wednesday 22nd May 2013
McLaughlin Park Clubrooms on Williams Road, Millicent
Tickets are $30 each and includes supper.
Tickets available from Rural Living and Millicent Football Netball Club Committee Members
Please use the navigation buttons and check us out.