Home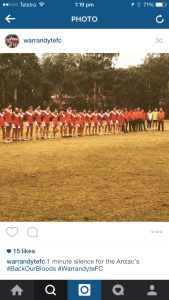 ROUND 4 VS FOREST HILL
This week we are back at HOME in which will be a great display of local football. We take on Forest Hill who are also undefeated in both the Seniors and Reserves and sit 3rd on the ladder in the Under 19's.
It will be a classic day kicking off at 9.40am. Our new range of merchandise will be on sale plus memberships and sponsorship packages.
ROUND 3 WRAP - VS Kilsyth
Another great day at the office for the Bloods with all 3 sides winning against Kilsyth. So far so good this season with all sides remaining undefeated.
It was a very special day on Saturday with the Club putting on its own Anzac Day ceremony prior to the Seniors. We thank Warrandyte's own John Byrne for coming down and playing the bugle which sent shivers up everyone's spine that was present.

Seniors
Warrandyte 93 defeated Kilsyth 69
It was a tough game in the Seniors with a much improved Kilsyth throwing everything at us for 4 quarters. It was a physical contest and at half time we took a small 7 point lead. The third quarter we kicked 3 goals to 1 and took a 4 goal lead at the last change. The last quarter was even and we finished with a hard fought 4 goal win. The game lacked many highlights however provided that tough physical pressure game we needed before taking on our rival Forest Hill next week.
New forward Ash Froud continued his good form kicking 4 (15 in 3 games) while his partner in crime Luke Dunn kicked 3 (11 in 3 games).
New recruit Dan Toohey was clearly the best on ground with ruckman Dave Hand and midfielders Troy Ratcliffe and Jacob Daley enjoying the physical conditions.

Reserves
Warrandyte 89 defeated Kilsyth 15
A one sided affair in the Reserves with the boys dominating the game in slippery conditions. Scores were even at quarter time however Kilsyth failed to kick a goal in the last three quarters. We finished the game in great style kicking 7 goals in the last quarter.
Gaz Hitchman kicked 4 up forward (14 in 3 games) while Zac Bentley kicked 3 and Adrain Mifsud kicked 2. Best players were Mifsud, Allardice, Chuck Johnstone and Grant McAdam.

Under 19's
Warrandyte 97 defeated Kilsyth 29
Another great effort from the Under 19's with a 11 goal win. The guys are playing great team football and getting better in each game they play together. Josh Beasley who has been outstanding this year booted 4 goals while Kyle Newman kicked 3. Sean Bowers snagged 2 goals and leads the competition goal kicking with 18 in 3 games. Better players were Ure, Brooking, Newman and Beasley.
Membership
WFC has released its membership packages for 2015.
For just $75 you can get entry to all nine home games plus recieve a WFC membership Cap.
If you are an "out of towner" but will still like to support the Club, a membership is just $30 which gets you a WFC cap.
Consession/Pensioner membership prices are $30.
You can download a membership form at the bottom of this page or contact Stephen Bell on pres@warrandytefc.com for a membership form.
Warrandyte F C App
Keep up to date with all the Warrandyte FC news by downloading the WFC App on your smart phone
It's 100% free!
Available on the web: http://warrandytefootballclub.teamapp.com or download FREE for iPhone, iPad or Android here: http://teamapp.com/app