Chelsea Senior Women's team win
Our senior women's team traveled to Rosebud to play their 3rd round game against Rosebud.
We went into the game with no substitutes and 2 players with injuries that just wanted to play and join their team mates. Rosebud kicked the first 2 goals of the game and with determination that has been missing in the past games we bounced back to kick 2 goals before half time. We started the second half with plenty of confidence and this resulted in Chelsea kicking their 3rd goal to take the lead. With only 15 minutes to go Rosebud were awarded a penalty kick and converted to equal the scores at 3-3.
Our team never gave up and wanted the win, this was the difference between both teams, with only 5 minutes to go our great hunger for the win was sealed by Beth kicking the winning goal.
Chelsea defeated Rosebud 4-3.
Well done girls.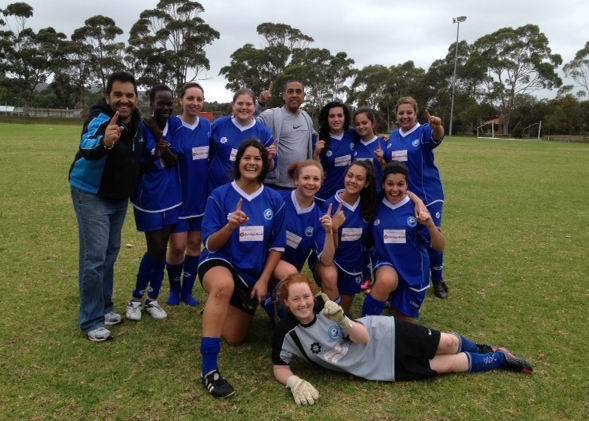 Last Modified on 28/04/2013 18:30
The Big Dig
December brought with it some heavy machinery to get stuck into the drainage issue. Come season 2013 we expect to be playing on nice dry pitches and here is why! Click here to view all the pictures taken by roving reporter Dom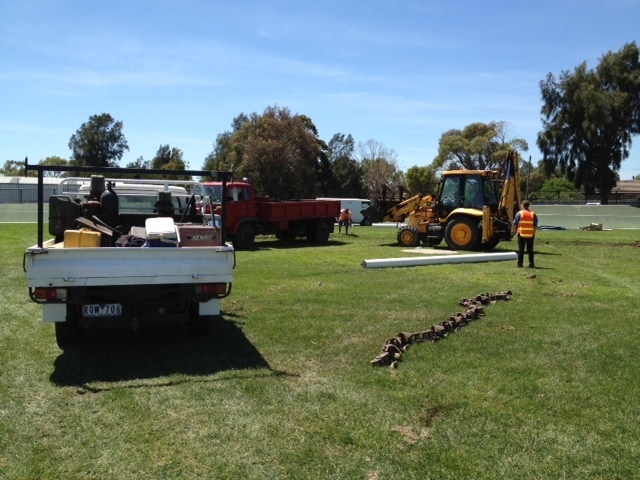 Last Modified on 20/12/2012 08:07
A note from the [NEW] President
To all members of Chelsea FC,
I would like to introduce myself - my name is Juan Noguera and I am the new President of Chelsea FC for season 2013. We have a strong and dedicated committee again this year and we are all really looking forward to the coming season. Below are some updates for your interest and information:

Early Registration Day
Last weekend (Saturday 1st December) we held our first registration day for our current members and friends. It was a successful day and we had a large number of our member base re-register for the coming season. Thanks to all who attended
Registration Days 2013
Next year's registration days are open to the public and will be held the 16th and 17th February.
Chelsea FC Jackets & Bags
The players who re-registered in December and still need to purchase jackets/bags will need to pop in to one of the registration days in February as John Camburn will again be present to take your order. This will be your last chance to purchase your club jacket and bag as we will not be selling them during the year. So please remember if you don't already have or not yet ordered, you will need to come down in February - note it in your diary.
Drainage Works
The car park at HD Thomas Reserve will be closed from 7am until 4pm and will reopen after 4pm each weekday. The car park will be open on weekends for use by clubs and the general community.
These access arrangements will be in place at the reserve from Monday December 10 2012 until the drainage project is completed in mid February 2013.
In addition to the car park closure, public access to the velodrome will also be closed while works are being undertaken on soccer ground No 1
The public will be unable to access or use the velodrome at the reserve on weekdays from Monday 10 December until Friday January 4. Access will however be available on weekends during this period. "

On behalf of the Chelsea FC committee, we wish you a very Merry Christmas and a Happy New Year!
Best Regards
Juan Noguera
Last Modified on 10/12/2012 19:55
Senior Women's Soccer comes to Chelsea FC
That's right, season 2013 will see the first senior women's team representing Chelsea FC playing in the metropolitan south east division of FFV. The club has recently appointed John Fricot (details below) to coach this team. John brings a lot of experience to Chelsea FC and will ensure that Chelsea's senior women's soccer team will be well prepared for the upcoming season.
The first training run for season 2013 will be on MONDAY 17 DECEMBER from 6-8pm at Chelsea Bicentennial Park (enter off Sturdee Street). This will mostly be a meet and greet session, but come prepared for a light training run as well.
If you cannot make this session, but are interested in playing in season 2013, please contact Peter McCarthy (0418 388 257 or peter@culsim.com.au).

In season 2013 Chelsea will now have girls only and women's teams competing at all age groups from U10 to U16 and seniors. There are also many girls joining in our goal kick sessions on Saturday and Sunday mornings and girls competing with the boys in our U7-U9 teams. We are always looking for new players. No experience necessary.
NAME: JOHN FRICOT
Nationality: Mauritian/Australian
Year's actively playing soccer: 35 years
Positions played: Goalkeeper, LW/RW, CF and Midfielder
Coaching experience: 3 years at Sandringham SC as Coach, 1 year at Sandringham SC as Assistant Coach, 2 years at Endeavour Hills SC as Coach, 2 years at Endeavour Hills SC as Assistant Coach

John has played for many soccer clubs around Melbourne such as Endeavour Hills SC, Sandringham SC, Diamond Creek, Dandenong Sparrows as well as training with the Gold Coast teams, Broadbeach United and Nerang SC. John played Goalkeeper for the majority of his soccer career. He's won 22 trophies, mostly for best and fairest. He coached his eldest daughter who made it into the Victorian State Soccer Team. We welcome John to Chelsea FC.
Last Modified on 01/12/2012 19:40
Chelsea FC now 300 players strong!
Chelsea Football Club are flying high in 2012. In our 4th year as "The club to be with" we have our 300th Player join our club ready to play.

Not only that, but we thank all of you for embracing the new website in it's early stages - already this month we've had well over 10,000 website hits and it's only bound to get bigger as more and more of you supply great pictures for everyone to check out!
In this picture is Joshua Padinis with president Dom Boccari raising our new club flag. So when you see the flag flying high down at the grounds drop in and cheer on our players as they battle it out on the pitch!
Well done to all our dedicated volunteer staff who make this club run week in and week out - the club growth is proof that all your hard work is much appreciated and admired.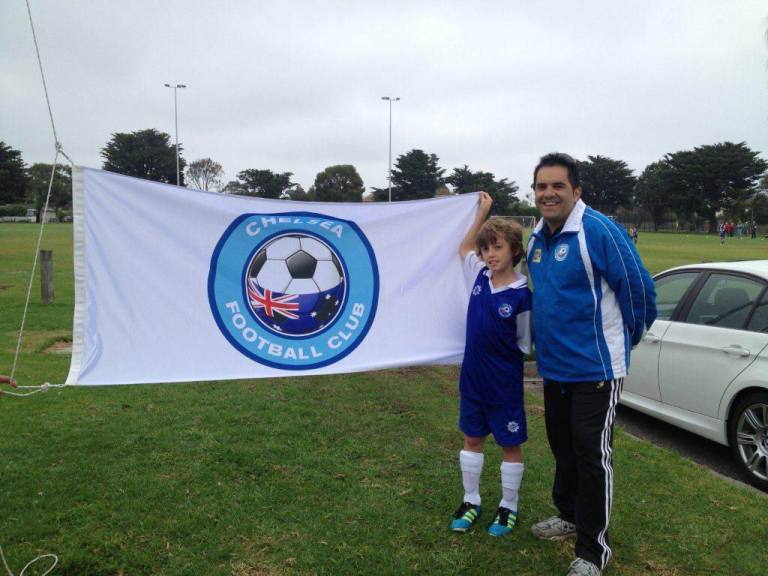 Last Modified on 24/04/2012 13:36