News & Info
Mount Annan Currans Hill Coaching Applications
2015 Coaching Application
Applications are now being taken for the upcoming season.
Complete the form and return to Secretary by 31st December 2014.
Please find applications in the MORE MENU'S tab
---
2015 Committee
Congratulations to the following committee members for 2015:
President: Chris Brooks: 0433 995 631
Secretary: Richard Rye: 0433 539 736
Assistant Secretary: Claire Simpson
Treasurer: Kylie Gleza: 0438 021 119
Snr Vice President: Steve Butler
Jnr Vice President: Paul Flemimg
Registrar: Sally Rye - 0433 539 736
Canteen Co-ordintor: Sharon Hunt
Coaching Coordinator: Rick Rye
Ground Manager: TBA
FAO: TBA
---
2014 Grand Final Results
Congratulations to our

11 Reds

for winning their Grand Final.
WELL DONE BOYS and Coaching Staff fantastic result!!
Also congratulations to

Under 12's

who made the Grand Final. Great acheivement. You all should be very proud!!
__________________________________________________________________
Sponsorship
We are looking for sponsorship for the 2015 season, if you are interested or know anyone that may be interested please email macknights@hotmail.com or call Sally on 0433 539 736
---
Playing Times & Ground locations
Please click on the above Fixtures/Results

tab to see what time your team is playing.
Ground Locations can be found under the Ground Locations

Tab
---
MACH KNIGHTS CLOTHING POOL

M.A.C.H Knights J.R.L.F.C are starting up a clothing pool.
Instead of throwing away your child/rens footy gear, donate them to the club for re-sale at a family friendly price.
While we raise vital funds for the club — you save money on all of your future footy purchases. Please donate clean footy boots, head gear & chest gear.
Items will be for sale at the ground on registration days, training nights & home games.
---
LeagueSafe Courses
The Leaguesafe course is now offered on line only. If you wish to carry out the course you need to go to:
This is at a cost of $20 per person and you must be 14years of age and over.
Once this is completed you will automatically populate into the NRL database and need to print off the Acknowledgement Statement sign it and hand to the club. Once we have received that we can then organise a lanyard for you
Merchandise 4 Sale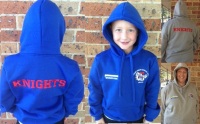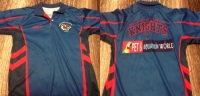 Hoodies $40 Polo $35
Hoodie's and Polo's are in stock.
Fundraising Committee
Thank you for the response. We now have a committee that are working hard to put together our Trivia night to be held on the 10th August. More details to come....If you would be interested in being involved in these committee's please email machknights@hotmail.com
Thankyou
No Smoking in Spectator Areas @ Public Sports Grounds
Section 6A of the Smoke-free Environment Act 2000 makes a number of outdoor public places smoke-free.
From 7 January 2013, smoking is banned in spectator areas at public sports grounds and other recreational areas in NSW. However, smoking will only be banned when an organised sporting event is being held.
Major sporting facilities are included under the definition of a public sports ground and will be required to comply with the new law. Other outdoor sporting facilities, such as Local Council playing fields, are also covered by the new law.
Sponsors
We are looking for sponsors for the 2013/2014 seasons. Great packages available please call Rick on 0430 591 278.