Home/News
Win a Corporate Box to the Caps game! Click on the picture below and complete the Basketball 2013 Customer Survey: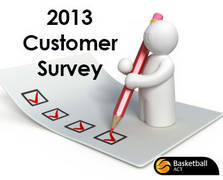 ---
NORTHS WIN FIVE 2013 JUNIOR WINTER CHAMPIONSHIPS
Norths have taken out five of the seven Junior Grand Finals the Club was involved in over the recent weekend (21/22 September). This is a tremendous result for the Club and a reflection of the huge effort and dedication our coaches, managers and players have put in to their teams this season.
Results of the finals games were:
Under 12 Boys Premier - Norths 49 defeated Marist College 39
Under 14 Girls Premier - Norths 41 defeated Tuggeranong Vikings 37
Under 12 Boys C Grade - Norths Satellites 36 defeated TSC Panthers 10
Under 14 Girls B Grade - Norths 30 defeated Radford Rave 20
Under 19 Boys D Grade - Norths Storm 27 defeated Tuggeranong Southern Cross 24
Under 12 Boys A Grade - Belconnen Ramblers 37 defeated Norths 32
Under 16 Boys C Grade - CGS Lions 42 defeated Norths Basketball Club 31
WELL DONE TO ALL OUR TEAMS!
Norths Basketball Club would like to thank all the players that participated in the 2013 Junior Winter Season playing in Norths colours. Thank you for your support and we hope to see you back in our colours for the next season.
Photos from the season can be found here.
---
NORTHS 2013/14 JUNIOR SUMMER TEAMS
Team lists for the 2013/14 Junior Summer Season have been completed and are available to view by selecting the 'Juniors' and then '2013/14 Summer Teams' and then the team name tabs from the menu above.
---
COACHES NEEDED
We need Junior Team coaches urgently. If you or somebody you know is interested in coaching a Junior Team please contact our Junior Head Coach Shane Wallace on vbhero@internode.on.net or send an email to our Junior Coordinator at norths@act.basketball.net.au as soon as possible.
We are also looking for coaches for several of our Senior Teams, including Premier Teams. If you would like to coach a senior team in Canberra's premier basketball competition contact our Senior Head Coach Tony Cotton on cotton@tpg.com.au as soon as possible.
---
SUPPORTING THE CLUB
Norths Basketball Club relies completely on members to assist with running the Club. You can assist by taking up a team coach or team manager position. If we cannot fill all positions at the start of each season, the Club will have the unenviable task of withdrawing teams from the competition. If you want to ensure your child enjoys their playing experience with the Club, step in to help out your child's team and the Club.
You can also assist the Club Committee in managing the Club meeting its member's expectations. Members look up to the Committee as the managers of the Club's integrity and viability. If you would like to assist the Committee in undertaking its activities and thus ensuring your child enjoys the benefits of a well run Club, contact a Club Committe member on the Contact Us page. Your support is greatly welcome and appreciated!
---
UNIFORMS
If you need to order a club uniform, please download and complete the Order Form here and send to the Club's Uniform Officer Ellen Robinson at cerobbo@netspace.net.au
---
HOODIES
If you would like to purchase a Norths Club Hoodie please contact Ellen on cerobbo@netspace.net.au. The Hoodie Order Form is available to download here.