Welcome to Moura Bowls Club!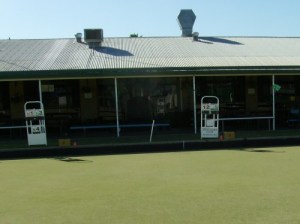 The Moura Bowls Club is a small, friendly Club situated in the heart of Moura which is in Central Queensland, about 180 kms west of Rockhampton. Situated on the corner of McArthur and Nott Streets, the Club is easy to find, but if you have a problem locating it, just ask one of the helpful locals.
Moura is in a coal, cotton and beef area with the local coal mines providing the bulk of employment in the area. Moura has a small business centre which supplies most of our needs. The town has a High School, Primary School and Prep all based in the one area and also has limited Childcare close at hand. The Moura Police, Ambulance, Hospital, Anglicare, St. Vinnies and the local QCWA Branch assist where/when help is needed.
The nearby Dawson River offers the recreational pursuits of boating and fishing while the township of Moura boasts many sporting bodies. (LAWN BOWLS, cricket, football, swimming, triathlon and soccer are some.)
Our Bowls Club offers a variety of facilities for members and visitors including bar services, meals, poker machines, darts, pool and of course, competition and social bowls.
Club Opening Times: Monday, Tuesday & Thursday: 4pm til late. Friday: 3pm til late. Wednesday: 9am-11Am & 4pm til late. Saturday/Sunday: 11am til late. Wednesday: Ladies' Playing Day. Saturday/Sunday: Men's Playing Days and Social Bowls.
Leanne's Bistro provides delicious budget meals at the following times: Night meals are available from Wednesday to Sunday from 6pm-9.30pm. Smorgasbord and Kids' Meals on Friday nights. The rest are all ordered off the Menu. Leanne is building up a great following so it's time you stopped missing out and came along for a great meal!
The Club is available for bookings at any time for bowls, functions or meals, but reasonable notice is required. (Ring Club on 49971155.)
Members and visitors are always welcome!
SENIORS WOTODO: http://www.seniorswotodo.com/home/queensland-4/gold-coast-region/brisbane/sunshine-coast-region/darling-downs-region/wide-bay-region/south-west-region/fitzroy-region