03:01PM, Wed 19 September 2007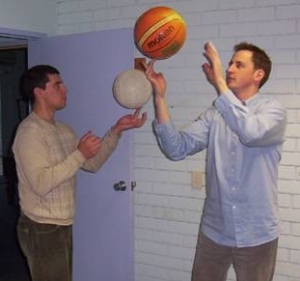 3 weeks till the Aussie Masters, ey..... its not that long ago I thought I could still play a bit, but I've noticed lately that a lack of training these days has taken its toll and i haven't quite recovered from that ankle injury (from 16 months ago).
BUT, there's nothing like a goal to get yourself going again....
So, the invitation came through Nick (CEO) that we were to enter a Masters Team in Basketball. OK - thats what i need. A reason to get out and run; however, now that the games are so close, i realise that whilst the bike tyres are pumped up and I have joined the gym, I have done basically bugger all in preparation, apart from a little work on the bench press (which hasn't got much to do with being a all-AMG guard). So, I am writing this sports log as a note to self.
With only a couple of weeks to go, its with some trepidation that I gear up for the Games - I read Glenn Archer's sports log where he says that being nervous helps with focus - good, I need all the help i can get.
In any case, it will be a great week in Adelaide as it always is, and will be great to catch up with the Masters crew, who are a great group. Also, will be good to spend some quality time with my work mates; where time dictates we are not always out and about socially. However, when you actually analyze the line-up, I actually start to realise that we're in with a big show at the Games....
Matthew 'Hammer' Cowling - may be ulitised as a swing player; much like his basketball hero, gary ablett (played wednesday nights in the GBL). Apparently he is a 'defensive specialist' which translates to 'doesn't score'. However, everyone scores at the Masters, I hear.
Justin 'Full' Nelson - Full Nelson is the dark horse of the team. seems to be growing his hair out, not unlike steve nash, so we'll see if he can serve us some tasty dishes during the tournament. Full Nelson may become Huey Nelson by the end of the week if he cooks up some tasty treats - however, the word on the street is that Full Nelson could become Full Monty at the Wednesday night street party if he served enough shandies and the band cranks up some Bon Jovi.
Nick 'O' Maywald - Nicko will carry us in the middle, and the only player over 6 foot. Nick is a competitor and will leave it all on the floor. He has carried some memorable injuries over the last couple of years, so here's hoping that the Big O doesn't become the Big Ouch. Apparently he is getting a blackberry pouch sewn into his shorts, so should be right to go - apparently can skyhook and still type 35WPM at the same time.
Brendan 'the shephard' Ricci - qualifies at the 4 position, due to the rest of us being Collingwood 6-footers. The beauty of BR is that he will remind us that we ARE actually playing for sheepstations. (If he can grab his usual 20RPG, we will definitely upgrade his nickname to Rodman Ricci)
Andy 'hoops' Collins - will be ready to go after a big 3 week fitness tear. I know us little blokes will have to be full of running for us to WIN this tournament. Maybe the elusive basketball nickname - hoops - is available if the Lord himself chooses to miraculously make me fit whilst I am sleeping or eating chips on the couch. Stuff it, 'hoops' is the motivation i need to hit the court running....I can hear the crowd now - Come on hoops...LIFT; hoops...RUN WILLYA, SUB HOOPS, where are the oranges, hoops? Who named you hoops?
Craig 'the hoodmeister' Hood - Hoody will run all day for us as he is the only guy who actually trains - unfortunately, its not basketball he is training in. However, if you can run, you can score at the masters. In fact, if you can lean on a bar you can score at the masters they say. Perhaps HE will become the hoopmeister...
Anyway - am really looking forward to the time away and being a part of the event, but i better get back on the bike right about now. GO THE PULSE!
Comments
View all
Report