09:00AM, Wed 23 January 2008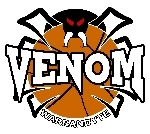 After weeks of training, competition finally gets under way this weekend with all of Warrandyte Venom's junior teams, including all four under 12 boys teams, taking part in the 2008 edition of the Eltham-Dandenong Junior tournament conducted over the Australia Day long weekend.
Getting the tournament underway are the under 12 A grade boys, who have a game against arch rivals Eltham on Friday. This game is a rematch of the crossover game that went right down to the wire in the last game before Christmas. And after going down by just 2 points in the Victorian Championship qualification game, the Venom and coach Arsenis will be out for revenge as they look to get their VC qualification campaign off to a good start.
David Daniel's 12.2 boys will be looking to put their disappointing grading phase 1 campaign behind them and start the new year with renewed focus and vigour. They get underway on Friday against Hawthorn 2 and will be looking forward to the challenge in the B1 division.
Also looking to start the year in a positive fashion are the 12.3 boys of David "Gibbo" Gibson. This team struggled for consistency prior to the Christmas break and will be looking to develop further as the tournament progresses. Gibbo is confident that the boys can continue to gel together as a team, and whilst he is expecting tough opposition in the tournament, his focus is on improvement.
After securing a permanent coach in Andrew Robertson, the 12.4 boys performed beyond all expectations in grading phase 1 as they made an amazing run at remaining in Metro contention for grading phase 2. Whilst they went down to an older and bigger opponent in the crossover game, they gained a lot of pride by officially becoming a higher ranked team that their 12.3 Venom boys counterparts. With another exciting talent being added to the team for the tournament, the boys have high expectations as they look forward to tournament success.
For all the Venom fixtures at the Eltham-Dandenong tournament, please visit: www.elthamtournament.com.au
Go Venom!
Comments
View all
Report