12:47PM, Mon 23 June 2008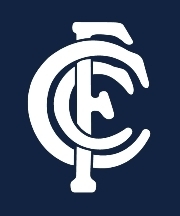 If there's one thing the Blues do well it's create headlines and ridiculous things for football followers to talk (and laugh) about. How's this for the past week down at Carlton?
1) Dick Pratt resigns (sorry, stands aside) as Carlton president because of charges pending about his role in price fixing? Surely such 'alleged' actions make him perfect to be the Blues head honcho? They shouldn't be asking him to stand aside, the club should be congratulating him on joining the fine brigade of those before him. Tampering (allegedly) with money is a tradition at Carlton!
2) Brendan Fevola won't sign his new deal because he wants more money. And this makes headlines? Fevola has been at Carlton long enough now to know what gets written on his contract doesn't include the cash Carlton will find a way of giving him under the table. Perhaps Fev needs a lesson in football protocol at Carlton by the great man himself - John Elliot.
3) And finally, what a bizarre thing for Brett Ratten to talk about after the loss to Essendon? "We're not ever mentioning finals again." What the hell made you think you could mention them in the first place!
Very strange people down at Carlton, very strange indeed!
The Yapper has spoken!

Comments
View all
Report