07:51PM, Mon 28 July 2008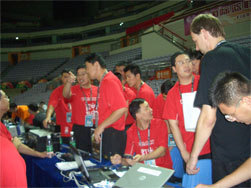 We setup everything here in the Nanjing Olympic Sports Center.
With the exception of a really slow internet connection to our servers in Europe everything runs smoothly.
Mia and Hector did a good job here preparing everything.
We had 48 (!!!) statisticians coming who use this event as a test for the Beijing Games.....Manpower? No issue here...
Comments
View all
Report