01:15PM, Fri 2 January 2009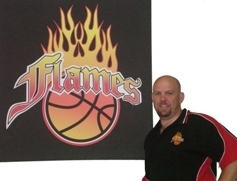 The Rockingham Flames will be running with one slogan in 2009, 'ready to set the state alight' and with the announcement Mark Utley has committed as Head Coach of the SBL Men's squad they are confident of going all the way next year.

Following the clubs most successful campaign in 2008 which saw Utley lead the Flames to a conference best 21-5 record it was a priority for Flames management to re-sign him again.

Speaking on the signing Association CEO Shannon Conrad said "In the two years Mark has been in charge of the SBL Men there has been significant culture change which now has the team considered among the competitions elite. With his knowledge and dedication into preparing and recruiting we believe that this year will give us a legitimate shot at the ultimate reward – a championship."

Last year the Flames boasted the most talented roster in the league with American duo Tim Bush and Chris Moore leading the way. Throw in the support cast including Adam Caporn, Aaron Trahair and local Ryan Godfrey and the team fell just short of a grand final berth which has Utley excited at the challenge ahead.

"From day one the journey has been all about improving and taking the right steps towards winning a title and the challenge is to go that one step further this year" said Utley.

While the Flames 2009 roster will look significantly different to the one that took the court last year Utley believes come tip off in March his charges will be ready to go and take each week as it comes.

The Flames Men's program are also set to unleash some of their juniors into the senior program which will be aided by Association Development Officer Ryan Rogers working with the talented kids to ensure a smooth transition into senior ranks.

Utley will now focus on confirming his roster in the coming month so stay tuned as more announcements are to come following the squad commencing pre-season on Sunday 4th January.
Comments
View all
Report