11:08AM, Thu 8 January 2009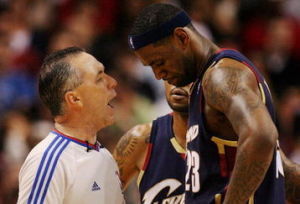 Lebron James, perhaps the most prolific basketballer in the world today, was called for a travel in the closing and critical moments of a Cavs game against the Wizards last week. This simple call which most deem correct, has created a minor talking point for some journalists in the US.
Lebron has labelled this move the 'crab dribble' which he says is a move he does to slow the defense before he attacks the basket. Caron Butler said he switched his pivot foot, a simple travel call. Lebron insists he's not walking and the NBA needs to understand that.
So, who's right?
Is this a crackdown on the travel call by the NBA? What about the superstar rule that polarises most basketball fans?
The NBA is a show built on the excitement created predominantly by it's superstars, of which Lebron is probably the brightest right now. This stuff is worth big bucks as we all know, i just wonder what the risk of an event like this is for the NBA's bank balance. I personally prefer the even playing field, irrespective of how much money the superstars bring into the game, the game is bigger than the money for me.
I can understand Lebron's frustration - it isnt called consistently. Why wouldnt he use the same play in a tight situation? He's just doing whatever he can to help his team win the game. Lebron would still be the best player in the world regardless of whether he gets called for the crab dribble or not, at least we'd have a more realistic idea of where everyone else sits.
Keep the game pure, it is the source, money is just an affect.
Comments
View all
Report