11:27AM, Mon 9 February 2009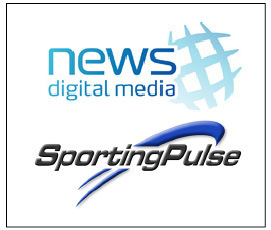 News Digital Media's chief executive officer, Richard Freudenstein, announced today that the company has acquired a significant minority stake in SportingPulse (ANZ), Australia's largest grassroots sports network.

SportingPulse is the home of Australian grassroots sport on the internet and one of the most popular sports websites in the country, attracting more than one million monthly unique browsers during the peak winter sporting season.

SportingPulse provides more than 50 sports with the IT tools to manage their organisations and competitions, publish websites, communicate with participants and raise revenue. The company has business relationships with and direct access to:

• 25 national governing bodies, including the Australian Football League, Australian Rugby League, Basketball Australia, Touch Football Australia, Hockey Australia, Bowls Australia, Football NSW, Football New Zealand and the Oceania National Olympic Committee
• 3700+ leagues
• 28,000+ clubs
• 180,000+ teams
• Two million sports participants

Mr Freudenstein said: "In less than a decade SportingPulse has established itself as Australia's pre-eminent online network for grassroots sports. With the company now evolving from a software business into a fully fledged digital platform, it presents an ideal strategic investment opportunity for News Digital Media.

"We see great synergies between SportingPulse and News Limited's suburban and community newspapers, which both have remarkable connections with communities across Australia. We will work closely with SportingPulse to ascertain the best way to leverage our expertise and print and online properties to help the site grow its traffic, reach and revenue."

SportingPulse's chief executive officer, Nick Maywald, said: "Sport is a way of life in Australia and the grassroots community form a proud and passionate part of our society.

"News Limited and SportingPulse are both actively involved in supporting grassroots sport and the partnership with News Digital Media will have a huge positive impact on our business. We look forward to benefiting from their wealth of experience in growing digital businesses."

In a separate agreement, News Digital Media's award-winning sales team will sell display advertising across the SportingPulse network.

Mr Freudenstein said that SportingPulse would prove a valuable addition to News Digital Media's market offering.

"SportingPulse gives advertisers a fantastic opportunity to reach not only a huge mass audience, but also to target highly engaged Australians from every walk of life" he said.

News Digital Media's stake compliments the AFL's minority interest in Sporting Pulse, secured in 2008.

The AFL's chief operating officer, Gillon McLachlan, said: "This is a great result for Australian football's grassroots community, which last year exceeded 690,000 in players alone.

"Our participants, volunteers and supporters are invariably passionate followers of their local leagues and clubs, and the stats show that the web is an increasingly important tool of engagement.

"News Digital Media brings a media company mindset to engaging this community, and that is a great thing for commercial supporters of our game, the game itself, and most importantly, users of the system."

Comments
View all
Report