11:13AM, Thu 19 February 2009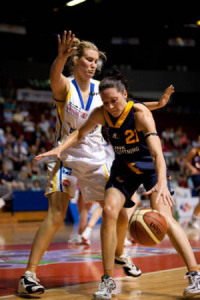 It certainly felt good to win again. Bulleen had won eight games in a row and were in great form, but Lightning played a good defensive game and finally had the team cohesion back that we had been so badly missing.
It was a rewarding match from a personal point of view and great to finish the game with a double-double.
Saturday's win also gives us a home final, which is invaluable.
Our trouncing in the previous round at the hands of Townsville Fire (the worst in Lightning's history) was still fresh in our memory, but I don't think anybody could have beaten the Fire on that night - they were in such imposing form and it was one of the toughest games I've played in.
The most difficult thing to counter in a game like that, and the quality I admire most in an teams, is work ethic. Players who can go out onto the court and play their hardest every time are invaluable to their side and very hard to contain.
I don't think it's something a coach can really teach or train a player to do. It's a gift some players have.
One player from the Fire who has that quality and very much stands out this season is
Rohanee Cox
.
It's not a huge gamble to say that Rohanee will be the WNBL Most Valuable Player this season.
She's so tough to play against because she can do it all - she can drive, she can shoot, she crashes the boards well and she's very athletic.
Every time we come up against her we know we're going to have a hard time containing her.
With just one regular season round left against Perth on Saturday at 7:30pm at the Distinctive Homes Dome, hopefully our win against Bulleen is the turning point for the Adelaide Link Lightning.
Once the finals start, it's a very different game and who knows what can happen?
Tracy
Comments
View all
Report