10:55AM, Tue 24 February 2009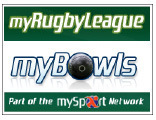 Two new sport-specific mySport channels - myRugbyLeague and myBowls - have just been launched.

The two new channels bring the total number of dedicated mySport channels to six, including myFiba (basketball), myFootyweb (AFL), myTouchFooty and myHockey.

myRugbyLeague
myRugbyLeague is fully integrated with the LeagueNet competition management and website system available free to all ARL affiliated leagues and clubs.

With a myRugbyLeague website, members can show their NRL club loyalties by choosing their club theme.

Once you've chosen your club, your myRugbyLeague website will display your club's colours and you can be friends with one of the players. You can access the 'change theme' enhancement through 'Edit Profile' on your mySport website.
To visit the LeagueNet portal website, click here.
myBowls
myBowls is the social network channel dedicated to lawn bowlers and part of the Bowls Australia-approved BowlsNet network.

BowlsNet provides all state and territory associations and their affiliated clubs with competition management, website and communications solution that will reduce administration costs and save volunteer hours and unify the bowls community.

The Australian lawn bowls community is made up of 250,000 members from more than 2,000 clubs.

When you join myBowls, you can connect with three of Australia's top bowlers - Barrie Lester, Kelsey Cottrell and Sam Shannahan - and keep up with their latest news, videos and photographs.

myBowls members can also display Fixtures, Results and Ladders from any club, association or state website that is part of the BowlsNet network.

To visit the BowlsNet portal website, click here.
Comments
View all
Report