04:45PM, Wed 25 February 2009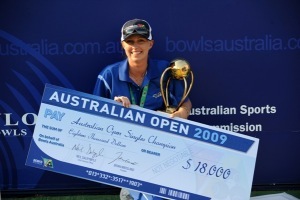 myBowls Ambassador Kelsey Cottrell has been crowned Australian Open women's singles champion - the youngest ever at only 18 - and claimed the Southern Hemisphere's most lucrative bowls prize.
Kelsey reaffirmed her superstar billing at the weekend when she won the title in a 10-8, 2-9, 3-2 tiebreak triumph over Scottish international Kay Moran.
Kelsey has only recently returned to the competitive stage after a six-month break from the game last year to concentrate on her final year of high school.
During a stunning tournament, Kelsey was down and out on two separate occasions, but landed killer blows with her final bowls of the quarter and semi finals to keep her dreams alive.
"I had a few very close calls in a few very tough matches on my way to the finals," says Kelsey in
her latest Sports Log on her myBowls website
.
"Once I got the first set against Kay in the final, I knew I just had to hang on. Kay played well and when she began pulling ahead in that second set, I just conceded that one and I started preparing myself for the tie-breaker. It was a real mental battle."
Kelsey's win ensures Australia will have a representative at this year's World Champion of Champions in Scotland.
Kelsey will also be representing Australia at next week's
Perth International
alongside Karen Murphy, Robbie Thompson and Leif Selby. The four-nation tournament, which features Malaysia, England and Scotland, commences from March 3 to 9 at Mosman Park Bowling Club.
Kelsey's fellow myBowls Ambassadors
Sam Shannahan
and
Barrie Lester
had mixed fortunes in the Australian Open.
Sam lost in the opening round of the singles but reached the semi finals of the triples, along with Kelsey and Lynsey Armitage.
Barrie reached the third round of the singles, losing in a tie-break, and reached the final of the men's triples alongside former Australian teammate Wayne Turley and Irish sensation Jeremy Henry.
Look out for Sports Log updates from Sam and Barrie very soon. And look out for a very funny video coming soon to mySport of when Kelsey and Sam came face-to-face with Glenn Archer and The Yapper in the latest installment of
Arch Vs The Yapper
challenge.
Comments
View all
Report