05:00PM, Wed 11 March 2009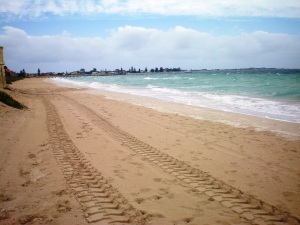 I've been here in Rockingham for a little over a week and things have been great so far.  I arrived on Monday, March 2nd after several very long flights. The transition has been very smooth and I credit the organisation for looking after me while I try to adjust to the Australia lifestyle. I had my first training last Wednesday. It was a bit tough on me at first simply because I was still trying to recover from the 25 hours I spent sitting on the airplanes. I wasn't particularly concerned about trying to score in practice. Instead, I just wanted to get a feel for our offense and how we all fit into the system. I was really impressed with how well we moved the ball around. We seem to have pretty good chemistry on the court.
Outside of practice, I've been going into the gym every day and working on my game. My focus so far has been on getting a lot of shots up. I also try to do most of my drills on the move. This not only improves my fitness but helps me learn how to concentrate and knock shots down when I'm tired. Because we only practice a few days a week as a team, it's very important that I get these sessions in every day.
On Thursday afternoon I went with Flames Development Officer Ryan Rogers to run a clinic at Living Waters Lutheran College for the year 8 and 9 children which was apart of our 'Takin' it to the Schools' program and we have a number of other school visits coming up in the next few weeks.
On Saturday, I really got the chance to hang out with my teammates and get to know them. We hosted an all-day fundraiser at the stadium and had a great time in doing so. I think events like that are important for team dynamics and translate into success on the court. We have our first game this weekend in Geraldton and I'm really excited to see where we are at as a team. I guess you'll have to tune in next week to find out what happened…
Signing Off
Joey #8
Comments
View all
Report