04:33PM, Mon 6 July 2009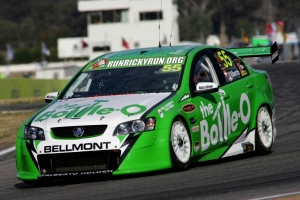 They might be competing on opposite sides of the world this week, but Team Bottle-O driver Tony D'Alberto and Australian cricket captain Ricky Ponting will both be eager to do well.
The Aussie skipper is in England where he'll lead his troops into battle for the Ashes, starting with the First Test in Cardiff this week, while D'Alberto will be pushing for a good finish at the new Townsville street circuit, the latest port of call in the 2009 V8 Supercar series.
Part of their hectic schedules will be to promote a novel fundraising effort that is also set to involve thousands of Australian sports supporters, particularly those who love watching Ponting wield the willow.
With the catchy title of Run Ricky Run, supporters of Australian cricket are being asked to donate money for every run Ponting scores in the five Test matches.
Set to benefit a number of charities helping children with cancer, every dollar raised will be donated, so the more runs Ricky makes, the better.
"Every run I score in the Ashes Tests will trigger a donation from the Foundation, so you can see that there's a fair bit riding on me getting runs in England, which I wouldn't have any other way," says Ponting.
V8 Supercar driver Tony D'Alberto first found out about Run Ricky Run from a friend and immediately wanted to help promote Ricky's push to raise money for such a worthy cause.
"Ricky is a fantastic leader and role model, so I wanted to help promote this and support our cricket skipper in his push for runs and raising money for kids with cancer," says D'Alberto.
"You'll see the website across the windscreen of the Team Bottle-O car this weekend in Townsville, it's an easy one to remember so I'd urge all V8 Supercar fans to get online, go to
http://www.runrickyrun.org
and support Ricky."
Busy preparing for the Ashes, Australian skipper Ricky Ponting thanked Tony for his support of Run Ricky Run.
"I appreciate Tony's support; it's great to have him on board and helping to promote Run Ricky Run. I wish him well in Townsville."
To support Ricky Ponting and help raise funds for children with cancer, go to
http://www.runrickyrun.org
Comments
View all
Report