01:13PM, Fri 28 August 2009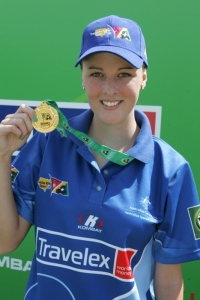 Hi all,
I hope you've been enjoying your time on the green. It's been a hectic winter for myself, not least of all because I have made the move from Victoria to NSW. It wasn't an easy decision, but I've been in Sydney for three months now, and I'm really enjoying myself.
While moving states is never easy, I've been fortunate enough to have a close network around me, thanks largely to my new club, St Johns Park, which boasts no less than five other Australian squad members.
It's a terrific club and I've already found my feet, having been thrust into the deep end after lining up in the pennant team which recently won the number one state pennant flag. An added bonus was that our rink finished undefeated, so it felt great to be able to contribute to the win.
I've also played in a number of other tournaments recently, including the St Johns Classic Fours alongside Mel Macaulay, Anne Johns and Sharyn Renshaw. Jimmy and Shaz are both in the Australian team, and Mel is a dual world under-25 world champion, so it was a pretty handy line-up and we were lucky enough to win.
I also came close in my first club event, which was the triples, but got beaten in the final, so hopefully I can go one better next year. Achieving some early success on the green, however, helps vindicate my move north and I'm looking forward to a busy end to the year.
Off the green, my university commitments are starting to swell, while on the rink, the 2009 Janome NSW Open at Taren Point is just around the corner. The NSW Open is the final grand prix in Australia for 2009 and it has been a happy hunting ground for me in the past, having won the singles last year and reaching the final of the pairs alongside Claire Duke, another St Johnny's girl.
Unfortunately there's no singles this year, but hopefully Kelsey Cottrell and I can go one better in the pairs. We reached the final of the Australian Open last year, but got beaten by Linda Gardiner and Gail Waitai.
All the results will be on the Bowls Australia website, so keep an eye on how we go. Other than that, I'm just spending my time getting to know my new city and entering as many tournaments and doing as many drills to put myself in contention for the 2010 Commonwealth Games. With just 400 days to go, it won't be long until it swings around and it would be a dream come true to represent Australia in Delhi.
That's it for now.
Sammy.
Comments
View all
Report