01:35PM, Wed 23 December 2009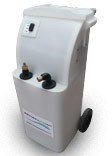 Hi guys,
I just want to wish everyone a merry Christmas and a safe and a happy New Year. If you still need to do some last minute shopping, I saw this on the BA website, and it could be worth a look.
Until next year,
Kelsey
Bowls Australia goes green
Bowls Australia has gone green after joining forces with Enviro Water Boy.
Enviro Water Boy is a revolutionary and simple product that supplies a gray water harvesting solution for homes and clubs.
Designed to be user friendly in its operation, the Enviro Water Boy allows users to recycle their gray water from showers, baths or laundries with absolute ease.
Among the benefits of using an Enviro Water Boy include:
The Enviro Water Boy gathers 90% of water that you use in the shower, filters it, and is then ready to use in the garden;
The Enviro Water Boy requires no additional plumbing or redirection, because everything you need is in the box;
The Enviro Water Boy can output 15 minutes of constant water when used with a high pressure cleaner, providing users with an array of options including washing their cars; and
The Enviro Water Boy is fully mobile and easy to maneuver meaning no more heavy buckets.
To help launch the new partnership, a special December offer is available to all Bowls Australia members, with $100 off the RRP of every Enviro Water Boy.
The units come in three sizes, namely 35, 70 and 100 litres, and start from $299.
However, as part of the Bowls Australia offer, if you purchase an Enviro Water Boy this month, Enviro Water Boy 35 will cost you just $199.
Click here to learn more about the products and accessories offered by Enviro Water Boy.
Comments
View all
Report