01:22PM, Fri 12 March 2010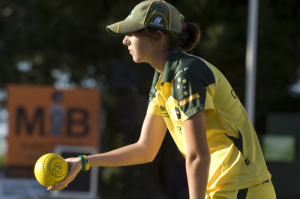 Hi all,
Well it's been a big and adventurous week. It all started when I flew into Cairns with the Australian squad for a crucial training camp at Marlin Coast.
Cairns certainly turned on the heat for us as we were greeted by temperatures in the low 40s, and it appeared to be much higher at ground level. The surface was steaming and the humidity was similar to what we confronted in Kuala Lumpur during last year's Asia Pacific Championships.
Despite the fact that we were eventually washed off the greens by a massive storm, it was still the perfect preparation for next month's eight nation test event in Delhi. During the course of the camp, we played a number of intra-squad games and we all felt like there was some rapid improvement since our last trip to Cairns in January.
It helps with the commraderie we have as a team because we all seem to have a lot of fun when we are brought together. To finish the camp some players were challenged to a game of corner to corner in the torrential rain.
Wayne Turley may have taken the chocolates but it was a controversial win!!
Our coach, Rex Johnston, and the national selectors had a big job in picking 12 players to go to India and I'm proud to say that I get to represent Australia once again in the singles and I'm one step closer to the Commonwealth Games!
Though I was slightly apprehensive about travelling to India, I'm now feeling great about it and can't wait to get over there and experience all that it has to offer. Not surprisingly, my teammates are all very excited and we've already started talking about what we'll pack and joked about the hot curries we might try.
Well that's it for now.
Kelsey
Comments
View all
Report