09:32PM, Fri 12 March 2010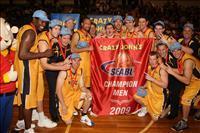 With the reigning SEABL Men's Champions just eight days away from commencing their title defence, the Knox Ford Raiders are roaring to go for season 2010. The Raiders will look to three-peat by winning the East Conference title again and will be pushing for back-to-back overall SEABL Championships.
Their first opponent of the new season will be local rival Nunawading Spectres who have strengthened their line-up in the off-season and will be led by a former Raider himself in Craig Simpson, who took over the coaching reigns midway through last season. The Spectres have brought in former Raider and Kilsyth Cobra – Gerard Leonard and another former Cobra in Chris Cameron. In addition, US import Matthew Hall will debut for Nunawading at Knox Converse Stadium on March 13th as part of the Raiders big opening night where Knox Basketball will be hosting the game in conjunction with the Prostate Cancer Foundation.
The schedule will not get any easier for the reigning champs in week two when they face off against arch-rival Kilsyth Cobras at home on March 20th. Round three of action will see the SEABL Men's Grand Final replay match-up when the Frankston Blues come to Knox Converse Stadium for what will surely be a game of high emotions.
Coach Graham Longstaff knows it's not going to be easy repeating as SEABL Champions but is confident his chargers will be up for the challenge.
"Our pre-season has been a little interrupted with the four guys [CJ Massingale, Sean Carroll, Mick Hill & Cam Rigby] playing in the Qatar series and we've had a few nagging injuries but we'll be ready to go when the time comes, they'll be no excuses. We've had a few personnel changes with Nick [Payne], Brigs [Daniel Briglia] and Adam [Kopittke] not with us this season but we've bought in Nathan Crombie and a few of the younger kids are going to step up," said Longstaff.
"I think our group is up for any challenge and having a few conference titles under our belt gives us confidence. It's a long year and I'm a firm believer that it's not where you start, it's where you finish."
Longstaff also spoke on the new timing regulations and the league's initiative to introduce a three person referee's squad.
"It'll be a little different with eight minutes less game time but we'll make adjustments as necessary. As far as the refs go I'm excited for them and the league. I think it's a great idea and I've been a campaigner for the league to go to three for a while," Longstaff stated.
Asked how he thinks dynamic duo CJ Massingale and Lester Strong will fair in 2010, Longstaff responded, "They're class people and take pride in their performance. Both are incredibly passionate about what they do which is great for the team and the club. I'm very lucky to have them both."
Longstaff added, "Sean [Carroll] will again be our captain but we'll also have a core few guys that will be the leaders of our group. Sean has to improve a little with his captaincy skills and I think he'll get better at it with the guys he has around him and the level heads."
Last season the loyal fans of 'Raider Nation' played a significant role throughout the entire finals series and will again be out in full force for the new season. Longstaff spoke about his team's first up encounter with Nunawading and about the great fan base at Knox.
"I think they've [Nunawading] bolstered their line-up and Craig [Simpson] I'm sure will have some new ideas being a younger coach. It'll be a very interesting challenge for us first up," Longstaff said.
"I know we've got very loyal fans and they'll expect us to be very competitive again this season. The guys know they carry a little extra expectation from our fans and they seem to handle that very well. We'll still be playing a really exciting brand of basketball and it'll be exciting to watch. Hopefully we can duplicate the large crowds we had at a few of our games last season for all of our home games."
Raider fans are urged to purchase their 2010 memberships as soon as possible to take advantage of an invitation to the annual tip-off function on Wednesday March 10th at Knox Ford with special guest MC Bruce Palmer. For more information on memberships, visit
www.knoxbasketball.com.au
or call 9762 1298.
2010 Knox Ford Raiders SEABL Men Line-Up
CJ Massingale
Sean Carroll
Lester Strong
Mick Hill
Cam Rigby
John Philip
Nathan Crombie
Alex Vanrenen
Liam Carroll
Steve Viterbo
Matt Smyth
Simon Grant
Comments
View all
Report