07:47PM, Tue 20 April 2010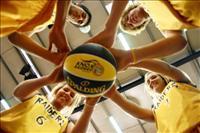 The Knox Ford Junior Raiders girls duo of Shanae Greaves and Sam Donald have helped guide the Victorian Under 18 Metro Team to a Gold Medal, whilst the boys duo of Pat Mockiewicz and Taylor Dyson secured a Silver Medal at last week's Under 18 Australian National Junior Basketball Championships held in Terrigal, New South Wales.

The Championship games were played on Saturday 17th April after an eight-day tournament that consisted of 14 Men's and 14 Women's teams from throughout Australia and New Zealand, all competing for the annual National Championship titles.

The Under 18 Vic Metro Women's team went through the grueling tournament undefeated and won the Gold Medal match in a thrilling one-point win 65-64 over Queensland South. The win made it four consecutive Championship wins for the Vic Metro Women at Nationals.

Junior Raider and SEABL Women's player Shanae Greaves had a stellar tournament in her debut as a state player, averaging 8.6 points, 4.9 rebounds and 1.1 assists over eight games. Shanae had her best output against the New Zealand team, notching up 17 points and 6 rebounds.

Fellow teammate Sam Donald, who plays with Shanae in the Under 18/1 Junior Raiders girls team and also competes for the D-League Women's team showed she is still very capable of mixing it up with the best players in the country after representing Vic Metro at the Under 16 level two years earlier. Sam averaged 2.6 points, 1.8 rebounds and 1.1 assists in eight games, including an 8 point performance over South Australia Country.

Head Coach of the Vic Metro Women's team, Wayne Pollock said, "The Grand Final was the culmination of an outstanding week of basketball. The girls played extremely well throughout the week and deserved their victory. Queensland South played a great game in the Grand Final with several of their players stepping up at critical times in the game, however, we also had several girls step up when needed. In the end, we were able to get things done when it counted."

"Special mention should go to a couple of players. Carley Mijovic made a great contribution throughout the tournament and was our top scorer in the Grand Final with 24 points and 11 rebounds. Captain, Olivia Bontempelli also did a great job throughout the week and in the Grand Final, where she managed to keep the tournament's top-scorer, Gretel Tippett's total point production down, which really helped the team," Pollock added.

Unfortunately, for Junior Raiders and D-League Men's players, Pat and Taylor, a last second three-pointer stood in their way of a Gold Medal for their Vic Metro team as New South Wales Metro got the win 57-55 thanks to the last second shot. Vic Metro ended the tournament with a Silver Medal after going undefeated in the preliminary rounds (6-0).

Pat averaged 10.9 points @ 55% and 6.3 rebounds for the tournament including a 20 point @76.9% and 12 rebound outing in his team's first game against Queensland North. Taylor, making his Vic Metro debut, averaged 9.4 points, 2.1 rebounds and 1.3 assists. The athletic guard's highest scoring game came against Western Australia Metro, scoring 18 points @ 70%, 2 rebounds, 2 assists, 4 steals and 2 blocks.

Head Coach of the Vic Metro Men's team, Alan McAughtry said, "The boys had a consistent week playing well throughout the tournament winning games comfortably. The semi-final was a very good test for us. Playing Vic Country we were forced to grind it out for the full 40 minutes. We got away to a bad start in the Grand Final but managed to claw our way back into the game to lose on the buzzer."

All four players will be back in action this Friday night for their Junior Raiders teams and on the weekend for their respective Senior Raiders commitments.
Comments
View all
Report