08:13PM, Sun 13 June 2010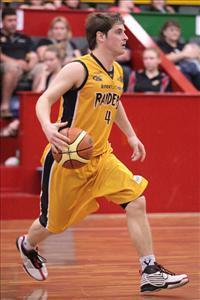 Saturday night at Sandringham Basketball Stadium will mark just the third time in Knox Ford Raiders club history that a player has reached the 200 game milestone mark with the Raiders as Captain Sean Carroll will lace his boots up at just 23 years old for his 200th SEABL game with Knox.

Carroll is a true success story of Knox Basketball after starting his playing days as a six year old with the Wantirna WASPS Basketball Club. The talented guard was identified by the Junior Raiders program and broke into the Under 12/4 boy's team where he crafted his skill set and went onto to be selected to represent Victoria four times; under 16's in 2002, under 18's in 2004 and under 20's in 2005 & 2006.

In 2003, at just 16 years old, Carroll was given the call up to the Raiders SEABL men's team where he faced the tough task of battling club legend Glenn Siegle and NBL Championship player Brad Robbins on a weekly basis at trainings. Carroll learnt from two of the league's premier guards and in 2007 was elevated to the starting point guard position, a spot he hasn't relinquished yet.

One of the most influential coaches on Carroll's career was Damian Cotter and Carroll would not let Cotter down with his decision to start the point guard as Carroll was awarded the 2007 SEABL South Youth Player of the Year honour in his first full season in the starting group.

Upon Glenn Siegle's retirement at the end of 2008, Carroll took over the Captaincy of the Raiders and the extra responsibility helped him to raise his game to another level as he lead the East Conference in assists in 2009 and finished runner-up in the Golden Hands award. Earlier this year Carroll was also selected to the All-SEABL Select team that toured Qatar.

Whilst Carroll has received several individual accolades it is the three Conference Championships ('06, '08, '09) and the 2009 SEABL Overall Championship that ties him with fellow teammate CJ Massingale as the winningest player in Raiders history.

Carroll spoke about his milestone, "I'm obviously very very proud of it. Not many players can have the opportunity to play 200 games at the age of 23. I've been very fortunate throughout my career, I probably came into the league when it wasn't as deep and in my first year we had a lot of injuries. Personally I've been very lucky with injuries and it's been a big factor in getting to 200 quickly."

"Growing up with playing domestic at Knox with the WASPS and then going onto play junior Raiders, I've certainly enjoyed the ride. I've had the pleasure of playing alongside guys like Adrian Haines, Luke Solomon, Lincoln Rosa and Luke Melenhorst."
"It's great to see a lot of young talent coming through the ranks now with our juniors and I'm sure one of them will take my place one day."

Carroll who will inevitably break the all-time games record for the Raiders either during a possible finals run this season or early next season currently sits third all-time in games played behind Wayne Howell (204) and Neville Ashley-Cooper (212).

Now in his eighth season and second as Captain of the Raiders, Carroll weighed in on his career highlights to date and the speculation he could play the most SEABL games all-time by the end of his career.

"Last year's championship and the 2008 title was a huge highlight for me, particularly when considering our backs were against the wall in both title runs. Playing alongside the likes of [Glenn] Siegle, CJ [Massingale], Brad Robbins and Matt Rueter amongst some other greats I will cherish, not only are they great players but great guys off the floor too."

"As far as the all-time games record, well that's something that I'm not really thinking about but as long as the body holds up and I've still got the passion for the game, then we'll start worrying about the records then."

Carroll went on to make special mention about three particular individuals that have had a major impact on his career, "Damian Cotter, Graham Longstaff and Mick Colgrave all have played significant roles in my development as a basketballer and as a person and I'd like to extend my sincere appreciation to those three."

The Raiders will look to make their Captain's big night one to remember against the Sabres (11-4) on Saturday night who currently sit on top of the South Conference ladder. Admission to the away game will be set by Sandringham at normal Raiders home game prices as the Sabres look to encourage all Raiders fans to come along and celebrate Carroll's milestone.
Comments
View all
Report