05:49PM, Mon 5 July 2010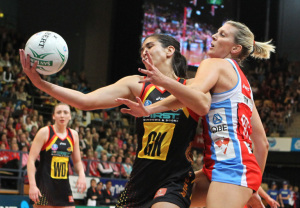 Hi guys,
Well it was a really disappointing loss yesterday but my Swifts really battled to the end! I am proud of our efforts even though we fell so short against the Magic!
It will be hard to watch the Thunderbirds play the Magic in Sunday's Grand Final - knowing that after a perfect season we just couldn't bring it together for the Finals.
I guess now i'll turn my attention to my Diamonds commitments. With the squad announced July 13th i will hopefully have another crack at making the Commonwealth Games team and playing in the Holden Netball Test Series.
Make sure you reserve your tickets now http://netball.asn.au/extra.asp?ID=7993
Don't miss the Diamonds in action this August with matches in Melbourne, Sydney, the Gold Coast and Adelaide.
Talk soon!
Comments
View all
Report