02:24PM, Sat 30 October 2010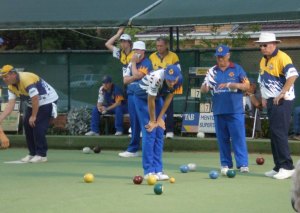 Perfect weather, a stella cast, great surroundings and excellent catering made for a highly entertaining night as Premier teams Moonee Ponds and Mentone clashed in a 6pm Friday night Rd 5 duel at Mentone.
Mentone, back into "Premier", proved they're up to it despite only picking up 3 points for the night. Glasson's team were the only "Ponds" team to lose, losing to NSW import Z. Trebara who was backed up by some local players and probably one of two best performed on the night , Wayne Sheehan.
Jacobsen and Turley were also "Pond's Winner's"
Daniel Rushton of Mentone was the skip to draw...well done Daniel!
Thoroughly worth a trip to see Premier's play under lights, the talent and skill was mindblowing!
Comments
View all
Report