09:18PM, Wed 24 November 2010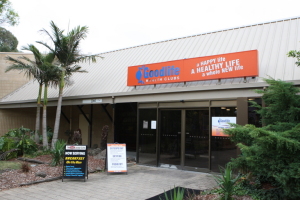 In another major coup for Knox Basketball, long standing corporate supporter, Goodlife Health Clubs Wantirna have re-signed for a further two years to remain a major sponsor.

Formerly known as the King Club, Goodlife Health Clubs Wantirna has developed a strong partnership that dates back to the late 90's. Goodlife is the official gymnasium of the Knox Ford Raiders senior teams and features state of the art facilities that were judged the best gym facilities in Victoria twice in the past five years.

Andrew McShea, Goodlife Health Clubs National Marketing Manager, spoke about Goodlife's decision to re-sign and the synergies that exist between the two organisations.

"Goodlife Health Clubs have been very proud supporters of Knox Basketball for over a decade. Goodlife Health Clubs and Knox Basketball represent a similar set of values of promoting a healthy lifestyle and positively improving the fitness of the local community. We look forward to continue to drive this partnership long into the future.

"The people in both organisations have made this partnership successful, working with likeminded and passionate people with the team at Knox Basketball has ensured this partnership has been a strong alliance for Goodlife Health Clubs.

"Brand awareness and recognition are very important to us within the local community as we look to engage locals about the benefits of practicing a healthy lifestyle. Like any great partnership the ability to effectively leverage the agreement is key rather then simply being associated through a transaction," said McShea.

McShea also talked about Goodlife's owners and where the popular gymnasium group fits in with other large leisure brands.

"Goodlife Health Clubs is owned by the Ardent Leisure trust and sits alongside businesses such as Dreamworld, Whitewater World, AMF bowling, D'albora Marinas and several other leisure & entertainment brands.
"With over 120,000 members and 40 health clubs across Australia, Goodlife Health Clubs offer the ultimate health club facilities, coupled with friendly staff who are there to help you achieve your fitness goals," Mc Shea stated.

Knox Basketball members and affiliates can take advantage of a great Knox Basketball associate offer from Goodlife Health Clubs. For just $14.50 per week with $0 joining fee and the first month free, you can join up to a full membership which includes access to all gym facilities including swimming pool, cardio equipment, weights equipment, ladies only area, group fitness classes, basketball court, squash/racquetball and tennis courts, spa, sauna, steam room and a complimentary session with a Goodlife trainer to conduct a health check and set up a personalised fitness program.

Goodlife Health Clubs Wantirna is located at 141 Mountain Highway, Wantirna. Call 9801 3311 or visit www.glhc.com.au to take advantage of the special Knox Basketball associate offer or for more information.

In other news, Corporate Sponsor, Edge Clothing Knox are relocating their Knox Shopping Centre store on Thursday 2nd December to the lower level (near Myer) and are offering all Knox Basketball players and families of players 10% off storewide on all normal priced items from Thursday 2nd December – Sunday 5th December. Simply mention you're part of Knox Basketball and you receive the discount. In addition, Edge's current store located near K-Mart on level two will remain open until Sunday 23rd January as a clearance store with loads of heavily discounted bargains (10% discount does not apply to clearance store).
Comments
View all
Report