10:46PM, Thu 4 August 2011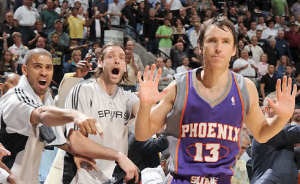 All of you millions of readers out there hanging out for the next instalment of the Shadowspulse blog just to find out how their Non-losing streak is going, you can fret no longer. It was at 5 games the last time we chatted but with the help of a bye last week and a solid all round effort Wednesday night versus a weakened opposition we extended the NON-LOSING streak to a rather remarkable 7 games!!
It was another going showing by the Pulsers, and after the previous game which ended in a draw but was our best performance of the year we turned it on again for the full 36 minutes this time, all be it, against a only half interested opponent.
We had a 7 man roster too, while BFDM had only 5 (missing their crucial point guard who was coughing at Myers). We had Brad on board too and we got off to a lovely start and never looked back really, with him and Cade penetrating inside early, and often, we look the goods. On defence Brent was doing his did his usual of blocking and changing shots and grabbing defence rebs. As Brent started to score inside off a couple of lovely dishes and then Regnator joined the party with a crack of the net 3 things were looking bad for the opposition as we had about a 16-5 lead. Usually we are down 5-16 at this stage of the game!!
To make matters worse the hograts Ash and Reg were licking their lips on the bench and stepped in the action keen to continue the onslaught, and Reg scored immediately and the Ash bombed 2 nices threes to extend our lead.
We entered the half with a handy lead and the half time chat was to keen the pedal to the metal. So we jumped into the 2nd half with Brent and Brad and even Al making a nice layup before Cade re entered the game and started racking up the points with 3's and open fast break 2 pointers cos he doesn't play any defence. In the end it was fairly straight forward victory and we ended up winning 71-43 with a few highlights down the stretch in extended garbage time.
Gotta say in a 28 point blow out I've never been more digusted in the refereeing in my life. Missed calls, ignoring calls and then bad calls. Really for long stretchs of the game they got every call wrong! And that includes calls for the opposition. In what should have been an easy game to ref they made an absolute meal out of it.
Scoring went,
The Bryants brothers combining for 42 pts.
The Davidson clan racked up about 17.
and the Regnator-Lomers twins had the rest being 12.
Comments
View all
Report