12:03PM, Wed 25 January 2012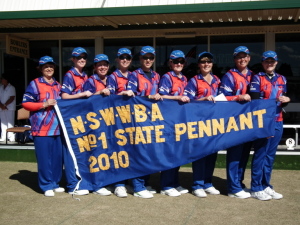 Lansdowne District Grade one pennant is always a much anticipated clash between the 3 powerhouse women's bowling clubs in the country, and this year will be another exciting encounter.
Merrylands, Cabramatta and the current 3 time state pennant champions St Johns Park do battle every year in the round robin pennant competition involving 8 players from each club starting February 28th.
Both Cabramatta and Merrylands have made their presence known in 2012 by recruiting some of the biggest names in bowls in an effort to put a stop to the recent domination by St Johns Park.
Merrylands have acquired the services of New Zealand's best female bowlers Jo Edwards and Val Smith who are respectively ranked one and three in the world. They have also recruited an ex Australian Representative Maria Rigby who was the best performed skip at the 2011 Australian Sides Championships.
Cabramatta have made a bold move to snatch St Johns Park's Julie Keegan who is arguably one of the most in form bowlers in the country to join their ranks. Keegan will combine with Australia's 2 most recognizable and most successful female bowlers, Lynsey Armitage and Karen Murphy.
Australian Squad member Claire Duke, ex Scottish International Kay Moran and former World Champion Carmen Anderson add strength to an already strong Cabramatta line up.
St Johns Park winning combination will remain relatively unchanged; though the current Australian Champion of Champions winner Jan Agar is picked to replace Julie Keegan. Australian Squad member Beth Quinlan and Asia Pacific Champion Kelsey Cottrell will lead the "saints" in 2012.
NSW Open singles finalist Anne Johns and Maryann Parcell will form a solid front end for the "saints" and they will be competitive again this year.
Merrylands and Cabramatta are required to enter 2 teams and no one will right off their chances of an upset, no team can be taken lightly. These teams are yet to be confirmed.
Teams are as follows: (Subject to change)
St Johns Park- Sarah Rumble, Jan Agar, Sharyn Renshaw, Beth Quinlan, Maryann Parcell, Anne Johns, Katrina Wright and Kelsey Cottrell
Cabramatta- Lisa Prideaux, Carmen Anderson, Claire Duke, Lynsey Armitage, Kay Moran, Arleen Jeffery, Julie Keegan and Karen Murphy
Merrylands- Kerry O'Farrell, Jan Rolph, Betty Herbertson, Corrine Crouche, Maria Rigby, Cheryl Gillard, Val Smith and Jo Edwards
Comments
View all
Report