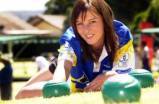 Samantha Shannahan
Hi! I'm Samantha, most people call me Sam. I am currently in the Australian Squad. I love bowls because it's different to most sports. I also love the fact that i've met a lot of nice people through b ...
Messages between Samantha Shannahan and Northern Flyers

Hmm advice, i've never been asked to give any! From my experiences in nationals and juniors I would say we performed best when we were having fun and encouraging each other. That is really important in bowls! Also make the most of juniors while you're still in it!

Thanks Sam. Do you have any advise we can give the kids who are going to Nationals?

Hi! Thanks for the add! The members of the northern flyers seem to be doing great! Congrats!